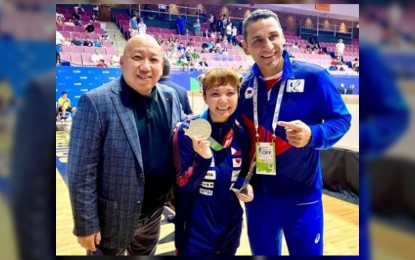 MANILA – Filipino-Japanese Junna Tsukii ruled the women's kumite -50kg category in the World Games karate competition at the Birmingham Southern College in Alabama, the United States on Friday (Saturday in Manila).
Tsukii pulled off a 2-0 upset win over world No. 2 Yorgelis Salazar of Venezuela in the finals to become the first Filipino karate champion in the prestigious tournament.
"I have been waiting for this for many years. The Philippines is not a very big country and we have not won many gold medals. Today, I was not fighting just for myself; I was fighting for the new generations of karatekas in the Philippines who hopefully can outgrow this success and achieve even greater success themselves," Tsukii was quoted as saying in the news article on the World Karate Federation website.
In the elimination round, world No. 5 Tsukii absorbed a 1-8 setback from Salazar in the first match but she bounced back in the next match, beating Shaira Hubris of Germany, 6-4.
Tsukii bowed to Morales Ozuna Gema of Spain, 3-3, via senshu (first to score advantage) in the third match and ended up in a three-way tie for second place at 1-2.
She, however, had a better score to take the second spot behind the unbeaten Salazar, who owns two Continental Championship titles.
In the semifinal round, Tsukii outplayed two-time world champion Miho Miyahara of Japan, 4-3, to gain a championship berth.
"Mabuhay si Junna. Mabuhay ang Karate Pilipinas. Mabuhay ang Pilipinas," said Karate Pilipinas president Richard Lim in a statement released to the media.
Tsukii, a bronze medalist in the 2022 Vietnam Southeast Asian (SEA) Games, attended a two-week camp under Olympic and world champion coach Roksanda Atanasov in Arandelovac, Serbia to prepare for her World Games debut.
Atanasov is a former coach of the Bulgarian national team. She trained Jovana Prekovic, a two-time world champion and the 2020 Tokyo Olympics gold medalist in the women's kumite -61kg category.
On the eve of her competition, Tsukii said she was confident of winning the gold medal because "I was able to finish my training with my mind and body in tip-top shape."
Tsukii was born in Pasay City to a Japanese father and a Filipino mother.
She was a bronze medalist in the 2018 Jakarta SEA Games and a gold medalist in the 2019 Manila SEA Games.
She has two gold medals in Karate1 Premier League and a silver medal in the Continental Championships. (PNA)