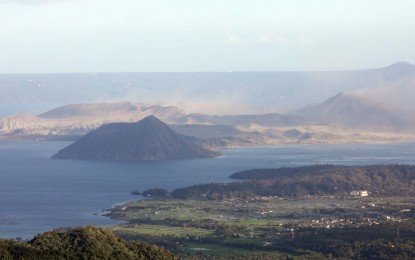 MANILA – The Philippine Institute of Volcanology and Seismology (Phivolcs) on Monday lowered Taal Volcano's alert status, from Level 2 (decreased unrest) to Level 1 (low-level unrest).
The volcano is still in an abnormal condition and the lowering of alert level status should not be interpreted as the threat of an eruption has disappeared, Phivolcs said.
At Alert Level 1, sudden steam-driven or phreatic explosions, volcanic earthquakes, minor ashfall and expulsions of volcanic gas could threaten areas within the Taal Volcano Island (TVI), Taal's permanent danger zone.
The lowering of Taal's alert level status was based on parameters such as seismicity, gas emission, main crater observations and ground deformation.
From an average of seven volcanic earthquakes a day from January 1 to May 1, Phivolcs did not detect a volcanic quake in Taal since June 13.
This means the possibilities of magma intrusion into the main crater have significantly decreased, Phivolcs said.
Entry into TVI, especially the vicinities of the main crater and the Daang Kastila fissure, remains prohibited.
Phivolcs urged the local government units to continuously assess previously evacuated barangays around Taal Lake for damages and road accessibility and to strengthen preparedness and communication measures in case of renewed unrest.
The public is advised to observe precautions due to ground displacement across fissures, possible ashfall and minor earthquakes.
Pilots are also urged to avoid flying close to the volcano as airborne ash and ballistic fragments from explosions and wind-remobilized ash may pose hazards to the aircraft.
The latest sulfur dioxide emission averaged 237 tonnes, consistent with the weakened degassing from magma beneath the TVI and volcanic gas being efficiently absorbed by the Main Crater Lake, Phivolcs said. (PNA)