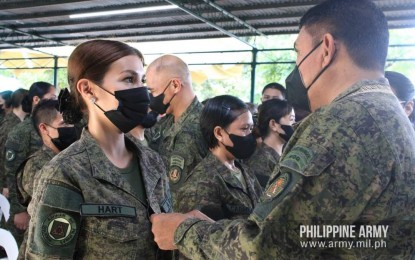 MANILA – The Philippine Army (PA) announced that some 155 individuals who have completed Basic Citizen Military Training (BCMT) will join its reserve force and help regular troops in assisting persons displaced by calamities and other emergencies.
"The 155-strong members of BCMT 'Salinlahi' Class 01-2022 hurdled the reservist's training program from May 15 to July 9, 2022. The training program equipped them with basic soldiery and warfighting skills. The class is composed of professionals from various fields which also include actress Nathalie Hart," Army spokesperson Col. Xerxes Trinidad said in a statement Sunday night.
The training took place at the Reserve Command, Philippine Army (RCPA)'s Camp Riego de Dios, in Tanza, Cavite.
Training exercises that featured a rope course, obstacle course, rappelling tower rapid deployment, 40-second breath-holding drill, 12-feet underwater rifle recovery, and rifle marksmanship.
The graduation rites for the BCMT took place at the National Capital Region Regional Community Defense Group (NCRRCDG), Fort Bonifacio last July 9.
PA Reserve Command chief Maj. Gen. Fernando Felipe led the pinning of ranks to the newly enlisted reserve privates who will be assigned to various ready reserve infantry battalions of NCRRCDG.
"As you graduate, bear in mind that you have a vital and bigger responsibility not only to the Reserve Force but to our countrymen as well. We are responsible to extend our hand in times of disaster, pandemic, calamity, and even war," Felipe said.
He also highlighted the important role of reservists as the expansion base for the active force in times of national emergencies, rebellion, or war.
The RCPA commander also lauded reservists for their crucial role in saving lives during calamities such as onslaughts of typhoons or volcano eruptions.
Army reservists earlier worked hand in hand with regular troops and other first responders and launched timely relief and rescue efforts that saved lives in the aftermath of calamities, particularly in the aftermath of Taal Volcano's eruption in January 2020 and the onslaught of Typhoon Odette late last year and Tropical Storm Agaton last April.
PA chief Lt. Gen. Romeo S. Brawner Jr. earlier emphasized the need for the force to recruit reservists that will effectively complement the regular force.
The Army currently has around 790,000 standby and ready reserves that perform a crucial role in the successful implementation of development support and security operations of the Armed Forces of the Philippines, especially humanitarian assistance and disaster response efforts. (PNA)