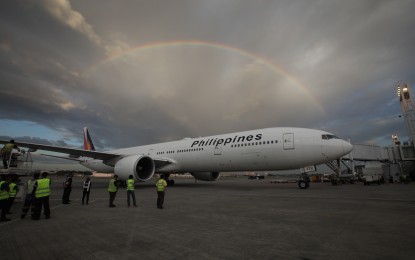 MANILA – Flag carrier Philippine Airlines (PAL) is looking at expanding its services to and from Hong Kong as the special administrative region eases its Covid-19 restrictions.
Pre-pandemic, PAL used to operate six daily flights to/from Hong Kong. Currently, services to Hong Kong are only once daily.
"We look forward to expanding our operations to and from Hong Kong as the situation improves and as restrictions ease," PAL spokesperson Cielo Villaluna told the Philippine News Agency (PNA) over the weekend.
Hong Kong authorities recently announced the scrapping of flight ban on airlines that have brought persons infected with the coronavirus. It still requires inbound passengers to undergo hotel quarantine for seven days.
A shorter quarantine period is being studied by the Hong Kong government, according to reports.
"The strong clamor among stakeholders for an increase in flight frequency is expected," Villaluna said.
PAL's Regional Head for Greater China Joe Kwok recently met with industry stakeholders in Hong Kong to provide an overview of PAL developments and recovery efforts, Villaluna said.
The team met with Filipino travel and trade associations and groups to assure them that health and safety standards in the Philippines are in place, she said.
The increase in frequency will depend on the market demand out of Hong Kong. "The goal is to mount twice daily flights. It will all depend on the demand. Right now, once daily is fine," Villaluna quoted Kwok as saying.
PAL is also reviewing its cargo services procedures to enhance the process so it could add more flights.
"On the area of cargo, PAL Hong Kong is reviewing the procedure of acceptance of commerce cargo so it could eventually add up more flights," Villaluna said.
PAL continued its cargo operations out of Hong Kong even during the period when PAL was one of the banned carriers, she said. (PNA)