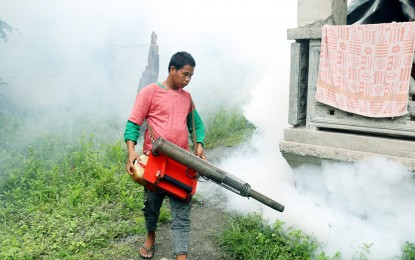 MANILA – The country has logged 64,797 dengue cases for the first six months of the year, with Central Luzon recording the most number of infections, the Department of Health (DOH) said Monday.
In a Viber message to reporters, the DOH noted that the number, recorded from January 1 to June 25, 2022, is 90 percent higher compared to the 34,074 cases during the same period last year.
Most of the dengue cases were reported in Central Luzon with 9,426 or 15 percent; Central Visayas, 7,741 or 12 percent; and Zamboanga Peninsula, 5,684 or 9 percent.
For the period of May 29 to June 25, about 21,115 cases were recorded. Of the tally, 3,902 or 18 percent were from Central Luzon; 2,316 or 11 percent from Central Visayas; and 1,997 or 9 percent from the National Capital Region (NCR).
A total of 274 deaths due to dengue were reported nationwide – 36 in January; 32 in February; 39 in March; 46 in April; 63 in May; and 58 in June.
In a televised public briefing, infectious diseases expert Rontgene Solante said dengue cases are expected to rise because of rainy season.
According to the World Health Organization data, the Philippines is one of the countries in Asia with a high number of dengue cases.
Solante noted that the four dengue types – Dengue 1, Dengue 2, Dengue 3 and Dengue 4 – are circulating nationwide, hence, the rise in cases.
He said environmental hygiene is the most important measure to be observed in keeping cases low.
"Ibig sabihin ang pag-control ng mga lamok, ang paglinis ng kapaligiran natin (This means control of mosquito breeding places, cleaning the environment)," he added.
Solante said early recognition is imperative when it comes to case management.
As for the vaccine, Dengvaxia, which has been licensed in other countries like Singapore, Thailand, Indonesia and Malaysia, is the only available vaccine against dengue.
"Dito sa Pilipinas, where the dengue is very high, tayo po 'yung walang ganitong klaseng (Here in the Philippines, where the dengue is very high, we don't have this kind of) preventive measure," Solante said.
"So, I think it's high time, if in case the government should consider having the Dengvaxia, they should review the data, they should review the benefit of this vaccine which is prevention of hospitalization and prevention of severe dengue," he added.
The use of the Dengvaxia vaccine is still suspended. It can only be used once the suspension is lifted.
Solante said there should be guidelines on its use to avoid any problems.
"Siguro, ang importante lang dito, tamang rekomendasyon at tamang indikasyon kung kailan natin gagamitin at kung saang edad gagamitin para malinaw, at hindi tayo, ah, walang hesitations (What's important is, proper recommendation and correct indication as to when to use it and for which age group to be clear, so that, we don't have hesitations)," he added. (PNA)