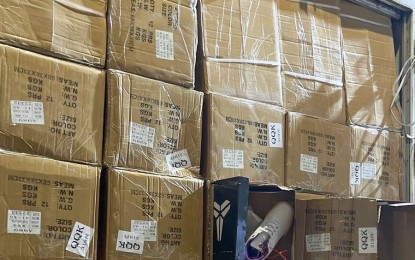 MANILA – The Bureau of Customs (BOC) on Monday reported the seizure of PHP8.37 billion worth of smuggled goods for the first half of 2022.
In a statement, the BOC said the goods were confiscated in 293 operations, with counterfeit items topping the list with a total value of PHP5.23 billion.
This is followed by illegal drugs at PHP1.67 billion and general merchandise at PHP388.80 million.
Around 58 Letters of Authority (LOA) were implemented in the same period, 44 of which yielded positive results.
A total of 78 alert orders were issued, 57 of which were positive for violation of pertinent customs laws, rules, and regulations.
Meanwhile, as part of its anti-corruption and integrity campaign under the leadership of Commissioner Rey Leonardo Guerrero, the BOC has issued 67 additional show cause orders from January to June 2022.
This has led to the dismissal, suspension, relief, and reshuffling of errant Customs employees.
During the first six months of the year, the Customs Intelligence and Investigation Service (CIIS) launched 333 personnel investigations which resulted in seven filed administrative cases before the BOC-Legal Service and another seven cases transmitted to the National Bureau of Investigation.
Three personnel were dismissed, seven were suspended, one was reprimanded, 27 were relieved, and 249 were reshuffled to various offices and ports within the first half of the year due to irregular activities.
On the other hand, aligned with the BOC's 10-Point Priority Program for 2022, one of which is pursuing Integrity Development and Quality Management for all offices and ports, 13 BOC ports and sub-ports have been certified with ISO 9001:2015, an internationally accepted standard for quality management. These included the ports of Manila, Clark, Batangas, Davao, Legazpi, Tacloban, Cebu, NAIA, and their respective Customer Care Centers (CCC).
The sub-ports of Dumaguete, Iligan, Mactan, CCC-Subic, and CCC-Limay are also ISO certified, while other Customs offices are in various stages of the ISO compliance process.
Customer Care Centers are also established in all 17 ports, including six sub-ports, under the Bureau, providing modern service centers for a centralized document receiving and releasing, information area for inquiry and other general concerns, payment center, and other Customs Services.
Around 91.76 percent of the BOC's processes are digitized which is aligned with its no-contact policy, Ease of Doing Business Act, and the Anti-Red Tape Act. (PNA)