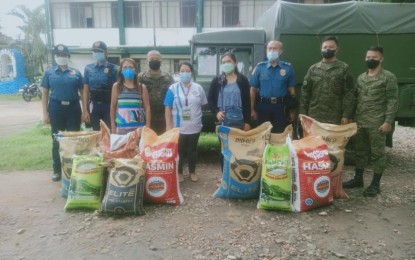 DUMAGUETE CITY – The families of two members of the Citizens Armed Forces Geographical Unit (CAFGU) of the Armed Forces of the Philippines (CAFGU) who were killed by the New People's Army (NPA) in Guihulngan City, Negros Oriental have received livelihood assistance from the government through the Department of Trade and Industry (DTI).
DTI-Negros Oriental provincial director Nimfa Virtucio told the Philippine News Agency on Monday that the two deceased CAFGU Active Auxiliaries (CAAs) are among four in the province who were identified to benefit from the Comprehensive Social Benefits Program (CSBP).
The families of the other two victims have yet to be contacted, and one of them is believed to have already relocated to Bohol.
The dependents who received the assistance were Mary Ann Yucaran, wife of the late CAA Rodolfo C. Yucaran, and Yolanda Gabia, the wife of late CAA Joseph Gabia.
The CAAs were killed sometime in 2018, a report from the 62nd Infantry Battalion of the Philippine Army said.
"The CBSP is a program designed to give benefits for uniformed personnel such as the police, the military, and the Coast Guard, among others, who are either wounded or killed in action," Virtucio said.
She clarified that while the DTI is the releasing agency for the livelihood assistance, the program entails a long process of validation that goes all the way to the Office of the President, which endorses the beneficiaries once they have complied with the requirements.
"That is why it is only now that these livelihood kits were released even though the CAAs were reported to have been killed by suspected New People's Army members years back," Virtucio said.
The turnover of the livelihood assistance was held on July 8 at Camp Tirambulo, in Barangay McKinley, Guihulngan City, with representatives from the Guihulngan local government unit, the 62IB, and the DTI in attendance.
The families received two sacks of rice and three sacks of feeds through the DTI Livelihood Seeding Program-Negosyo Serbisyo sa Barangay (DTI-LSP-NSB).
The CPP-NPA is listed as a terrorist organization by the United States, the European Union, the United Kingdom, Australia, Canada, New Zealand, and the Philippines.
The National Democratic Front has been formally designated as a terrorist organization by the Anti-Terrorism Council on June 23, 2021, citing it as "an integral and inseparable part" of the CPP-NPA created in April 1973. (PNA)