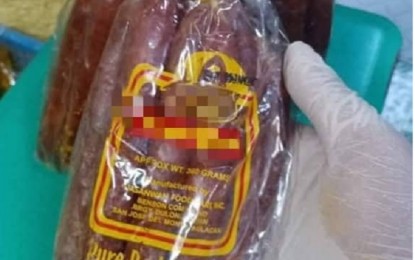 SAN JOSE DE BUENAVISTA, Antique – Residents of Antique province are told to be vigilant against the entry of the African swine fever (ASF) that could affect the hog industry.
Dr. Marco Rafael Ardamil, head of the Public Health Division of the Antique Provincial Veterinary (ProVet), said in an interview Monday on July 7, they seized banned frozen and canned goods such as pork tocino, chorizo bilbao and Chinese sausage manufactured in Luzon and sold in 13 retail stores in San Jose de Buenavista, amounting to PHP8,000.
He said these frozen and canned goods were considered to be the second biggest confiscation next to the PHP50,000 worth of goods that were seized in January this year.
Those confiscated food items were destroyed through burning and covered by soil on a dug hole.
"ProVet continues its intensive monitoring of the pork and other pork-related products being sold in the retail stores and other establishments considering that Antique is still ASF-free," Ardamil said.
Provincial Ordinance Number 2020-242 that bans pork and other pork-related products from Luzon and other areas affected by the ASF is still in effect, he said.
To prevent also the entry of the banned pork-based food items, the Antique ProVet continues its border checkpoints in the southern borders of Anini-y and Hamtic towns and in Libertad and Pandan in the northern part.
"Cargoes are being inspected at the border checkpoints to make sure that there are no banned pork-based food items being transported inside Antique," Ardamil said.
Hand-carry food items with pork ingredients such as chicharon or hopia are also inspected and confiscated right at the Antique Airport from inbound passengers so they could no longer bring it home or sell it on retail to other people. (PNA)