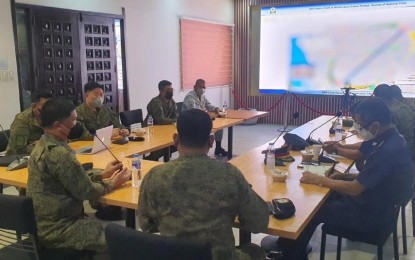 MANILA – The Presidential Security Group (PSG) on Monday led an inter-agency meeting to discuss the safety and security preparations for the first State of the Nation Address (SONA) of President Ferdinand "Bongbong" Marcos Jr. on July 25.
The PSG shared photos of their meeting in a post on their official Facebook page (https://www.facebook.com/PSG.TROOPERS/posts/pfbid02YVxExcKDaDnLdAgSjz1TiMAezMrCD6RBrPuuZN2Fe2ptMoNwGMVpvz6nnvPVb2vtl)
"This is in line with the guidance of PSG Group Commander, Colonel Ramon Zagala, PA to ensure the safety and security of the President, to include all the attendees and the whole event itself," the PSG post read.
PSG Task Force SONA 2022 Commander Col. Nelson Aluad spearheaded the meeting with the core group.
It was attended by the augmentations from various government security agencies and units under the Armed Forces of the Philippines, Philippine National Police, Bureau of Fire Protection, Philippine Coast Guard, Manila International Airport Authority, and Civil Aviation Authority of the Philippines, Department of Health and National Intelligence Coordinating Agency.
Series of oculars, walk-throughs, and inter-agency coordination will also be held until the day of the SONA itself, according to the PSG.
The SONA is a constitutional obligation and yearly tradition where the President reports on the status of the country unveils the government's agenda for the coming year and proposes to Congress certain legislative measures.
The 1987 Philippine Constitution fixed the date of the SONA "every year on the fourth Monday of July."
The SONA marks the start of a new regular session of Congress.
During the last two SONAs of former President Rodrigo Duerte, guests were required to present their proof of vaccination and negative Covid-19 test results via a reverse transcription-polymerase chain reaction two days before the event.
Guests must also undergo a rapid antigen test at the Batasang Pambansa on SONA day. (PNA)