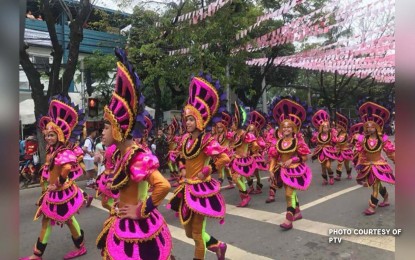 MANILA – The Department of Tourism (DOT) lauds the performance of the Cebu-based Tribu Lumad Basakanon which has recently earned the top spot in the international category of The Powerful Daegu Festival in South Korea.
Tourism Secretary Christina Garcia Frasco, who hails from Cebu and a Sto. Niño devotee herself is all praises for the group's performance which features the Cebuanos' devotion to the Senor Sto. Niño through the Sinulog dance.
"The Tribu Lumad Basakanon has proven that Filipinos are indeed world-class performers. The group brings pride to the Philippines, and contributes greatly to our country's efforts to highlight our rich cultural heritage through festivals," Frasco said.
"This recent victory of the Tribu Lumad Basakanon at the Powerful Daegu Festival provides a platform to further promote this Philippine heritage and time-honored tradition," she added.
Sinulog is one of the grandest Philippine festivals that has been attracting tourists from all over the world who join in the street dancing and festivities.
"Tribu Lumad Basakanon's accomplishment brings hope and inspiration to other Filipinos to aspire for honor and pride, not only for themselves but for our country. The group's laudable performance will enjoin more tourists to visit Cebu and neighboring tourist destinations, to experience for themselves our rich history, culture, and heritage, and the pride of place and unwavering faith felt by Cebuanos," Frasco said. (PR)