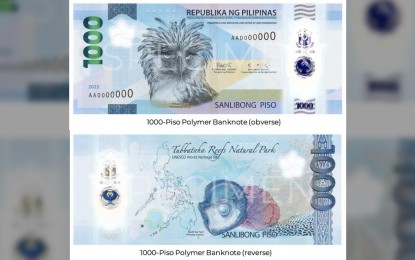 MANILA – Folded banknotes, whether paper or polymer, can still be accepted for payments, the Bangko Sentral ng Pilipinas (BSP) said, advising the public to go to banks to check the authenticity of their banknotes.
In a statement Monday night, the central bank said "retailers and banks should accept them for day-to-day payment transactions."
"The BSP issues this advisory to address concerns raised on social media regarding non-acceptance by some establishments of folded 1000-Piso polymer banknotes," it said.
This, after a certain Reylen Lopez made a Facebook post over the weekend and claimed that her PHP1,000 polymer note was not accepted for payment in a branch of SM retail store because it was folded.
The BSP has issued guidelines on how to properly handle the polymer banknotes and these include putting them in a wallet that is long enough and where they can properly fit, keeping it clean by using a damp cloth to wipe soiled part, and using it for payments of goods and services instead of hoarding it, and selling or buying it at a higher price.
It said the same policies should be used in handling paper banknotes.
"The handling guidelines were issued to raise public awareness on the proper use of polymer and paper banknotes to safeguard their integrity and prolong their lifespan," it added.
The BSP also encouraged people to go to banks to check the authenticity of their banknotes if they have doubts about it.
"The bank will then refer the banknote to the BSP for examination," it said.
SM has issued a statement regarding the social media post on the 1,000 piso polymer note.
"We would like to assure the public that folded bank notes are still accepted in our SM Retail Stores. Only those that are mutilated –stapled and ripped caused by the removal of staple wire– will be deemed unfit and not accepted. Our policy has considered the guidelines set by the Bangko Sentral ng Pilipinas," it said.
The BSP initially issued 10 million pieces of 1,000-piso polymer notes to banks last April and it targets to issue 500 million pieces in phases until June 2023.
Monetary authorities said banks in the National Capital Region (NCR) are required to have their automated teller machines (ATMs) fully capable to service polymer banknotes by end 2022 while those outside NCR by June 20 next year. (PNA)