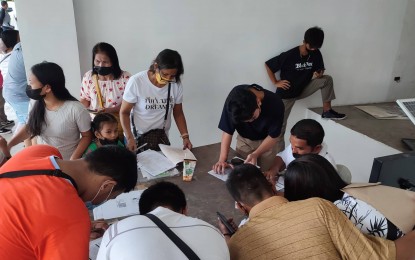 TACLOBAN CITY – The Commission on Elections has listed 16,694 new voters in Eastern Visayas during the first week of registration for this year's Barangay and Sangguniang Kabataan (SK) elections.
Some 11,264 of the registrants who showed up at the local Comelec offices during the first eight days (July 4 to 11) were youngsters who will stand to elect SK or youth organization leaders while the rest are eligible to choose barangay or village officials come December.
Comelec Eastern Visayas spokesperson Jenette Fariola-Ruedas said on Tuesday Comelec offices will accept registrants until July 23, 2022. There are also satellite registration sites in six provinces and seven cities in the region.
"Off-site registration will assist voters living in communities far from election offices. This will also encourage more residents to register," Ruedas told the Philippine News Agency in a phone interview.
The Comelec has identified 314 satellite registration sites in Eastern Visayas, some of which have been accepting applications since July 7.
The election offices also accept applications for transfer, change/corrections of entries in the registration records, the inclusion of registration records and reinstatement of name on the list of voters, and transfer of registration records from a foreign post to a local one.
Preparations for the local elections will continue in the absence of a law postponing it, according to Ruedas.
Under the existing law, the village and SK elections are scheduled for December 5, 2022.
In a statement, Comelec Eastern Visayas Regional Director Jose Nick Mendros urged voters to register early and not to wait for the deadline.
"We only have two weeks left of registration period. To avoid last minute rush and crowd, all those qualified must visit their local Comelec offices as early as possible," Mendros said.
Election offices are open to receive applications from Mondays until Saturdays from 8 a.m. until 5 p.m. The office will also be open on holidays. (PNA)