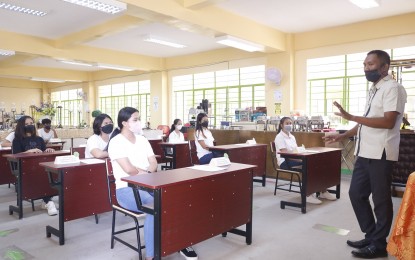 MANILA – More students will be able to continue their college education or technical-vocational training courses once Republic Act (RA) 10931 or the Universal Access to Quality Tertiary Education Act is expanded.
Senate Bill No. (SBN) 29 that seeks to amend the education subsidy law introduces the voucher system for indigent and academically competent students study in private schools in cities and municipalities where there are existing state universities and colleges (SUC), local universities and colleges, and public Technical Vocational Institutions (TVI).
"We should fast-track the passage of this bill with the noble intention of ensuring that the youth, especially those belonging to the poor, will have more doors of opportunities opening for them through quality education," said bill author Senator Ramon Revilla Jr. in a statement on Tuesday.
This system is similar to what the Department of Education is implementing wherein the subsidy is not given to the learner as cash but is paid directly to the school where the learner enrolls.
SBN 29 will help achieve and operationalize a provision in the updated Philippine Development Plan 2017-2022, which encourages the United Financial Assistance System for Tertiary Education (UniFAST) Board to "implement a voucher system and improve the loan system to give students a choice of any school and educational tracks, whether technical-vocational education track or higher education, prior to the enrollment period."
"The bill aims to have a proportional budgetary allocation in order to increase the access of Filipino students to tertiary education and promote the complementarity between public and private higher education institutions and technical-vocational education institutions," Revilla added.
The beneficiaries of the Tertiary Education Subsidy (TES) shall continue to receive such benefits until they complete their higher education degree program or post-secondary technical-vocation course as long as they do not fail in any subject enrolled in and comply with the residency requirements.
Under the law, TES may cover tuition and other school fees in private Higher Education Institution, and private or local government-operated TVIs, which shall be equivalent to the tuition and other school fees of the nearest SUC or state-run TVI in their areas; all allowance for books, supplies transportation and miscellaneous personal expenses including a reasonable allowance for the documented rental or purchase of a personal computer or laptop and other education-related expenses; allowance for room and board costs incurred by the student; allowance for expenses of a student with disability, allowance for expenses related to the disability including special services, personal assistance, transportation, equipment, and supplies that are reasonably incurred: and for a student in a program requiring professional license or certification, the one-time cost of obtaining the first professional credentials or qualifications, which may include application fees, notarial fees, review classes fees, insurance premium fees and documentation fees.
The amount of subsidy shall be based on the guidelines set by the UniFAST Board and on the annual budgetary appropriation. (PNA)