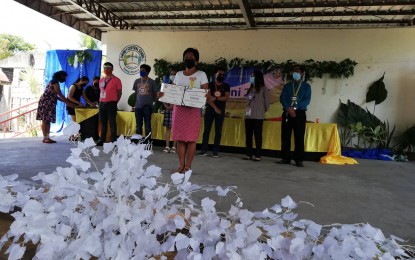 SAN JOSE DE BUENAVISTA, ANTIQUE – Validation of 6,234 household beneficiaries of the Pantawid Pamilyang Pilipino Program (4Ps) of the Department of Social Welfare and Development (DSWD) in Antique Province is ongoing for possible graduation.
Jeffrey Gabucay, Antique Pantawid Pamilyang Pilipino Program (4Ps) Provincial Link, said in an interview Tuesday, said the validation, which started July 1, is being done among beneficiary-households of the program since 2009.
A total of 28,611 households are benefitting from the program.
"Our new Department of Social Welfare and Development secretary (Secretary Erwin Tulfo) during his meeting with the directors last week gave instructions to intensify the validation of the households to find out if they had already improved well-being and could graduate from the program," Gabucay said.
"Pantawid household beneficiaries then had been availing of cash grants for the educational and health needs of their children and so prior to their graduation there will still be a case management to be conducted to ensure that they could receive other interventions and not back slide," he added.
A case study is necessary to find out what other needs the beneficiaries still have so that they could be referred to the local government units or other national government agencies like the Technical Education Skills and Development Authority for skills training.
So far, Gabucay said there had been 17 households in Antique that had graduated due to their improved level of well-being or are now self-sufficient.
The households in Anini-y were the first graduates in Western Visayas on March 26, 2021.
Gabucay said to date, 4,815 households in Antique have graduated from the program without a child aged zero to 18 eligible for monitoring. (PNA)