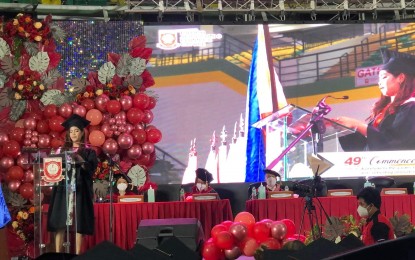 MANILA – Finishing tertiary education is deeply considered a milestone in one's life, let alone finishing this phase with flying colors while juggling part-time work alongside scholastic demands.
But for 22-year-old Maria Clarizza Masangkay, family, determination, and endurance can move mountains, as she graduated magna cum laude with a Bachelor of Science degree in Psychology from the Emilio Aguinaldo College (EAC) in Cavite.
Masangkay belonged to the first batch of students under the senior high school program to graduate from college.
But behind the grandeur of this honorary achievement, she admitted it was never an easy road.
She said she had to secure a part-time job to help them cope with the financial demands of the learning setup affected by the coronavirus disease 2019 (Covid-19) pandemic.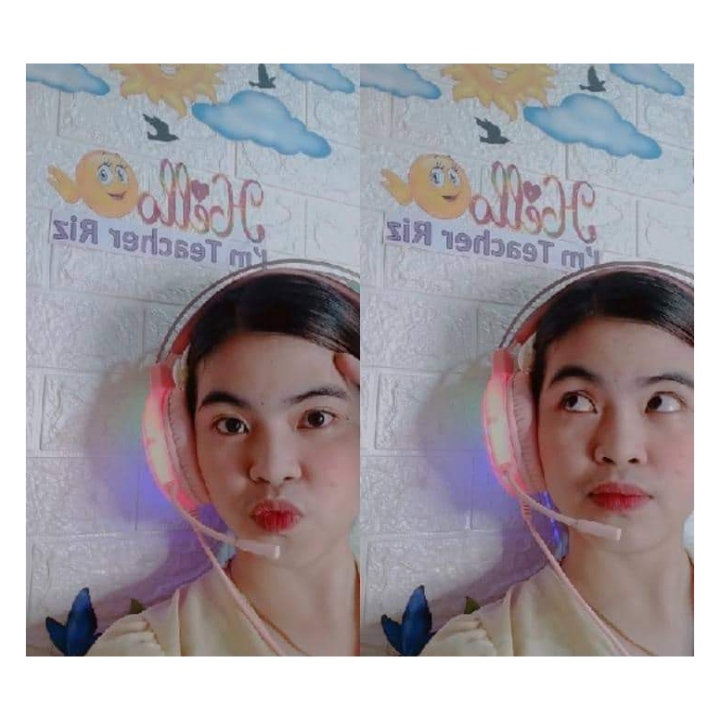 "The hardest moment I encountered was the sudden shift from face-to-face class to an online class. During that time, we were not a subscriber of any Internet provider and I only had my phone as a tool for attending classes. Computer shops were unable to operate because of the sudden surge in Covid-19 cases. There are times that I would cry in frustration as my phone shuts down due to overheating as a lot of apps (mobile applications) were operating while the data was on during class discussions," she said in an interview.
With this pressing challenge, Masangkay decided to work online as an English Secondary Language (ESL) teacher, working the evening shift from 6 p.m. to 11 p.m., so she could pay for their Internet.
"Si mama kasi barangay worker po, PHP2,000 a month sahod. Si papa naman on-call, factory worker, kaya di po sapat. Bale parang si ate pinaka-bumuhay po sa amin. Bale 'yung sahod ko po napupunta sa Internet bills and pandagdag sa groceries. PHP8,000 po sahod ko. Nagtitira lang ako lagi PHP2,000 para sa sarili ko (My mom serves as a barangay worker with a PHP2,000 salary per month, and my father is an on-call factory worker. That's why it's not enough. It's my elder sister who supports us. My salary goes to Internet bills and additional grocery. My salary is PHP8,000. I only save PHP2,000 for myself)," she said.
Amazing women
With the high academic demand of being a college scholar, coupled with the high-level stress from her part-time job, Masangkay said she almost gave up.
But surging ahead, she said she owed the endurance that she displayed to the "three amazing women" she has in her life.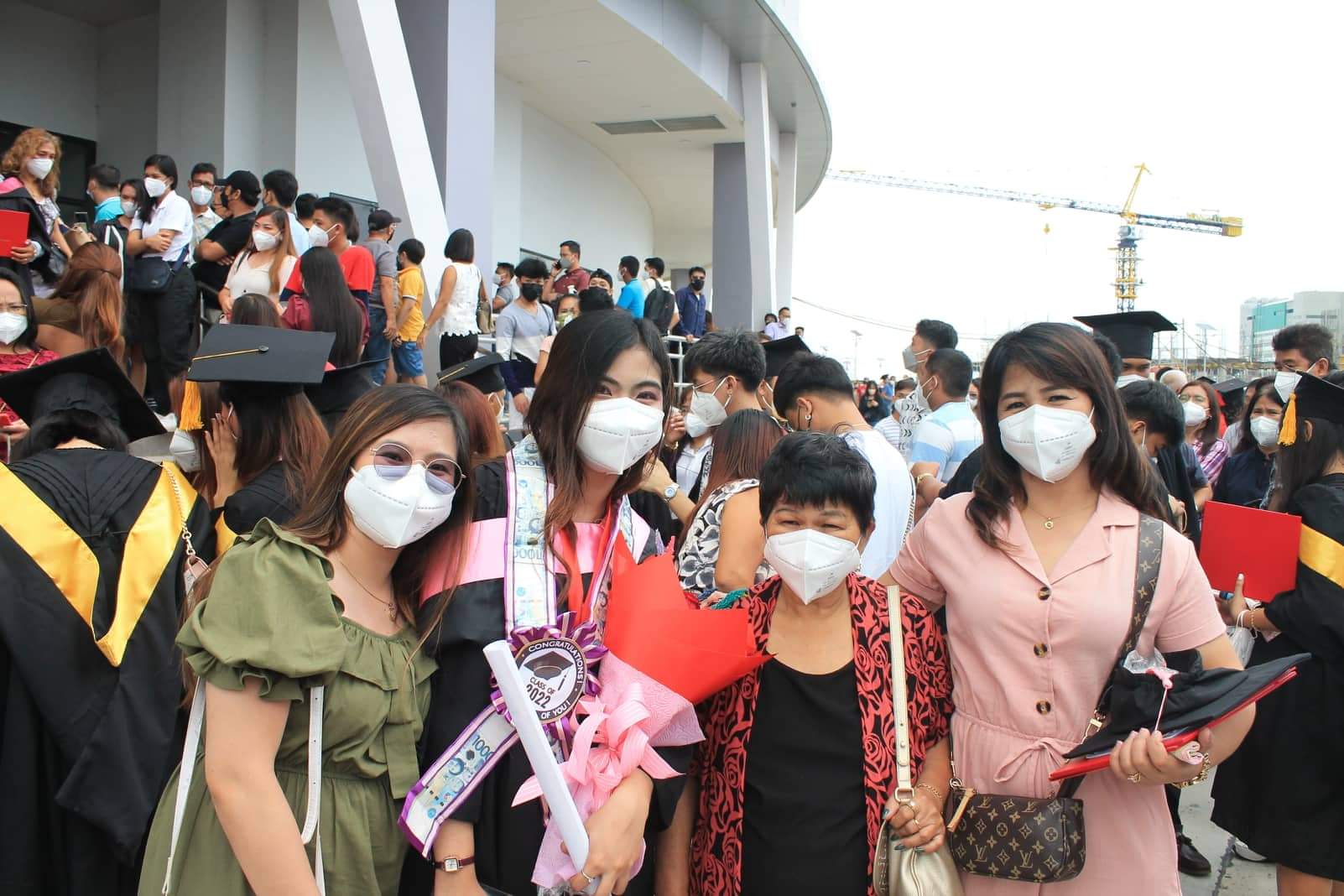 "I am most thankful for these three amazing women who had taken a big part in my success. First, my Lola Glo for always providing for my needs. For still working in a pabrika (factory) day and night despite her old age just to supply each of her apo's (grandchildren's) necessities," she said, referring to her grandmother.
Likewise, she expressed deep gratitude for her sister and mom who have been "all-out supportive" despite her breakdowns.
"(I thank) my Ate Mary for cheering me up when I'm about to break down and lose it all. For all of the comfort food, motivational rewards, and all the 'Kaya mo 'yan' (You can do it!) whenever I thought, I can't. These gestures really fueled me up to this success," she said. "My Mama Marriane, for being there with me since day one. For being my number one supporter. For being my backbone. I never once saw her being disappointed in me. Even at times, I felt like a failure for not meeting my set goals. Her kind words, 'Okay lang yan, Bawi ka nalang' (It's okay, you can do better next time) always saved me and magically made everything better."
With the powerful influence of the three women in her life, Masangkay could not help but encourage younger girls to continue pursuing their dreams.
"I would like to encourage the young generations of women to educate themselves. Great power comes upon acquiring knowledge. Having an educated mind will boost your confidence since it enables you to maximize your skills and minimize your flaws. Always carry your pride in upholding the words, 'BABAE KA, hindi babae lang' (you are a woman, not only a woman)," she said.
As Vice President and Education Secretary Sara Duterte spoke before their batch for their commencement rites, graduates were encouraged to "love, serve, and protect" the country in the best way possible.
For her chosen field, Masangkay said she would strive hard to ensure affordable access to mental health programs and services.
"Being a mental health advocate, I am planning to show my love and service to my country through making the mental health services much more attainable and accessible. As well as participating in advocacy that will combat the stigma and prejudice against people with mental disorders," she said.
Earlier, the World Health Organization urged immediate action to address the "enormous suffering" of people with mental health problems, following the effects of the pandemic.
According to the World Mental Health Report on the Global Burden of Diseases 2020, a 25-percent to 27-percent hike in the prevalence of depression and anxiety during the first year of the pandemic was recorded.
"Before the pandemic, an estimated 193 million people had major depressive disorder; and 298 million people had anxiety disorders in 2020. After adjusting for the Covid-19 pandemic, initial estimates show a jump to 246 million," the report indicated.
Likewise, Senate Health Committee Chairperson Christopher Lawrence "Bong" Go has urged the Philippine Health Insurance Corp. (PhilHealth) to "develop a possible comprehensive mental health package," including consultation and outpatient services, considering the alarming issues of mental health problems suffered by some Filipinos. (PNA)