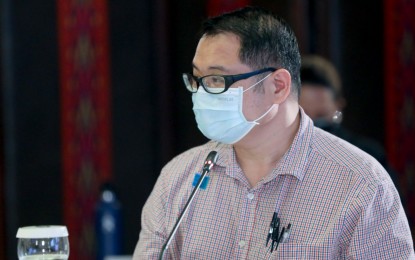 MANILA – An infectious disease expert is advising the public to continue wearing face masks amid the rising cases of Omicron subvariants in the country.
In a Facebook post Wednesday, Dr. Edsel Salvaña said masks should be worn even outdoors as the Omicron BA.5 subvariant is "super contagious".
"They're finding that out in other countries AFTER they removed their mask mandates. Good thing we're a lot more cautious in the Philippines," he said.
Salvaña noted that current vaccines continue to prevent severe disease but are less effective for preventing infection and the use of face masks is still significant to avoid more infections while waiting for updated vaccines.
Health authorities say Omicron subvariants BA.4 and BA.5 are highly transmissible, as transmissible as measles, which is considered the most infectious viral illness in humans.
Being outdoors provided good protection against infection with previous coronavirus variants like Alpha and Delta. However, being at an outdoor event could be somewhat risky with the newest Omicron subvariants.
In the country, there are a total of 293 cases of BA.5, 87 BA.2.12.1 cases, and 12 BA.4 cases. Some 60 new cases of BA.5 along with 17 additional cases of BA.2.12.1 and two BA.4 were logged from July 7 to 11.
Salvaña clarified that Omicron BA.5 subvariant is "not the worst Covid-19 variant".
"That distinction currently belongs to Delta which killed more people than any other variant locally and almost caused our healthcare system to collapse," he said. "The deadliness of Delta was a combination of the virulence of the variant and a lack of widespread vaccination."
BA.5, being an Omicron sublineage, is likely less virulent than Delta at baseline, he added.
Severe and critical cases positive with Omicron subvariants are not expected to be anywhere near Delta levels to overwhelm the healthcare system with the widespread vaccination which still protects against severe disease, he added.
Earlier, President Ferdinand "Bongbong" Marcos Jr. said the government may consider wearing face masks optional if it is clearly safe. (PNA)