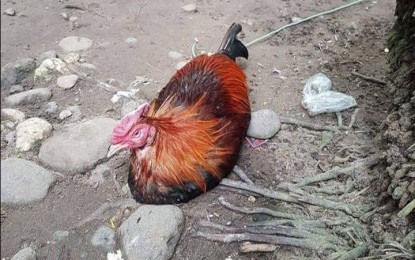 DUMAGUETE CITY – Live chickens and other poultry being brought outside of Negros Oriental must be first tested negative for avian influenza prior to travel, the Bureau of Animal Industry (BAI) of the Department of Agriculture here said on Wednesday.
Dr. Alfonso Tundag, BAI quarantine officer and provincial chief, told the Philippine News Agency that this is to prevent the spread of avian influenza, a viral disease that infects domestic poultry and other types of birds, such as ducks.
Previously, only those coming into Negros Oriental from other areas were being monitored and required to present negative laboratory tests for bird flu and other requirements.
Tundag said former Agriculture Secretary William Dar, who stepped down from office last July 1st, issued a memorandum stating that the ingress and egress of chickens, ducks, and other birds must require laboratory testing.
"Even if it is just one live rooster for cockfighting, it would require testing first and must be negative for the bird flu virus before it can travel outside of the province," he said in mixed English and Cebuano.
People here have to coordinate with the Provincial Veterinary Office so that the blood serum extracted from the chickens that are up for travel can be sent to Cebu City for bird flu testing, he added.
Security personnel at the airport and sea ports have already been alerted of this requirement, the quarantine officer said.
Negros Oriental remains to be avian influenza-free.
Meanwhile, Tundag said there is no shortage in Negros Oriental amid a public perception here of a low supply of dressed chicken which has raised the current prices.
He said there is plenty of incoming dressed chicken from Bacolod City or Cebu, and the province is also sending chicken to other areas like Zamboanga. (PNA)