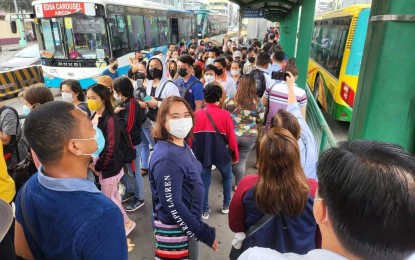 MANILA – Land Transportation Franchising and Regulatory Board (LTFRB) chair Cheloy Garafil is looking to improve the riding experience at the Edsa Carousel bus after taking a ride at the route herself on Tuesday.
In a statement Wednesday, Garafil observed "many areas for improvement" on the route -- also known as the Edsa busway -- during her personal inspection, such as the long distance between some stations in major commercial districts like Cubao and Ortigas Center -- and the need for a fleet management system to address the surge of passengers during rush hours.
She also cited a lack of facilities for PWDs, the lack of a passenger terminal in Monumento, and "convenient access to the stations" for the safety and comfort of passengers.
However, she lauded how the busway "instilled the value of order and discipline" to commuters and eliminated "the chaos of elbowing all others" during rush hour.
"What I saw were people respecting the lines and giving way to the privileged sectors such as senior citizens, PWD (persons with disabilities), and pregnant commuters when necessary," she said.
The Edsa Carousel busway was first put in place in 2020, at the height of the pandemic, to improve the bus system on Edsa, Metro Manila's busiest and most congested highway.
Ride on the busway is free after the Marcos administration extended it until December 31, a move that would ease the burden on living expenses.
Garafil said the delay in the LTFRB's payout to the Edsa busway consortium was caused by the "sheer volume of work" from the recently concluded Service Contracting Program.
"We nonetheless, commit to fast track the payouts in order not to further burden our partner operators and drivers," she said.
On Monday, Transportation Secretary Jaime Bautista asked Garafil to emulate his surprise inspection of the Metro Rail Transit Line 3 in the previous week to get a first-hand experience of riding the Edsa busway. (PNA)