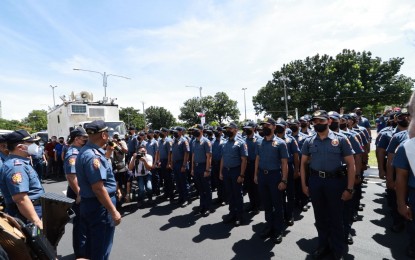 MANILA – The Philippine National Police (PNP) will create a task force to oversee the overall implementation of the security measures for the first State of the Nation Address (SONA) of President Ferdinand "Bongbong" Marcos Jr. at the Batasang Pambansa in Quezon City on July 25.
PNP director for operations, Maj. Gen. Valeriano de Leon, said the task force will also work closely with other government agencies for the traffic rerouting, handling of protesters, and other security issues.
"The security preparations would not be as stringent as the inauguration because this will be done in a closed building, but still, we have to be very careful about the surroundings, especially that Quezon City is a populated area," said de Leon in a statement on Thursday.
De Leon said National Capital Region Police Office (NCRPO) chief Maj. Gen. Felipe Natividad already presented a security plan for the event to Interior Secretary Benjamin Abalos Jr. last week.
Based on the plan, around 15,000 policemen, soldiers, and other force multipliers from other government agencies will be tapped to secure the event.
"The presentation was impressive, but there will be minor adjustments in the actual deployment," said de Leon.
De Leon said the PNP will also designate freedom parks where protesters can hold their programs just like what was done during the inauguration of Marcos at the National Museum in Manila on June 30.
"We expect rallyists to air their issues, but we encourage them to hold it at the right venue. There will be dialogue on this matter with them. We also have to respect their rights. As our PNP OIC (officer-in-charge) Lt. Gen. Vicente Danao Jr., said, we will exercise maximum tolerance in dealing with them in order to avoid unnecessary confrontation," he added.
De Leon also appealed to the protesters to give the new administration a chance to lay down the plans and implement them in the next six years.
For his part, Natividad affirmed that the preparations for securing Marcos' first SONA have already kicked off early following the success of his inauguration in June this year.
Natividad further confirmed that a similar template and security package utilized during the inauguration of His Excellency PBBM will be applied.
"NCRPO is tasked to secure and maintain the peace and order before, during, and after the event. With this, a total of 15,174 security forces will be deployed; 9,919 from the organic NCRPO personnel, 1,891 from PNP support units and 3, 364 from other coordinating agencies and other peacekeeping partners," Natividad said in a separate statement.
Natividad said as part of the security preparations, a series of deliberate inter-agency coordination meetings is expected with the presence of representatives from the Armed Forces of the Philippines (AFP), local government units (LGUs), Metro Manila Development Authority (MMDA), Philippine Coast Guard (PCG), Bureau of Fire Protection (BFP), Bureau of Jail Management and Penology (BJMP), force multipliers, volunteer groups, and other concerned agencies in order to iron out specific individual tasks, contingency plans and coordinating instructions appertaining to the security aspect in and out of the House of Representatives which is the venue for the event.
He noted that dialogue with the different community leaders, stakeholders, and civil society leaders will also be carried out to address concerns to keep the unnecessary crowds to flock to the venue, especially for those who have plans of indignation or to sabotage the event.
"'No Permit, No Rally' will also be implemented. Those who will conduct mass assemblies in places other than designated freedom parks must secure permit from the local government before they can huddle and carry out their program or activity, provided further that they adhere to the law of peaceful assembly. Any attempt to occupy places not authorized, the CDM (civil disturbance management) contingent will disperse the group or assembly," said Natividad.
He said the 34 border control points will be activated to secure southern, eastern, and northern boundaries in cooperation and collaboration with neighboring regional police offices and AFP counterparts.
Gun ban for SONA
Danao also said he has approved the suspension of permits to carry firearms outside residence (PTCFOR) in Metro Manila from July 22 to 27.
"Just like what we did in the inauguration, we implemented a gun ban three days before and two days after the actual date so we will do it now," Danao said on the sidelines of an arms show in Mandaluyong City. (PNA)