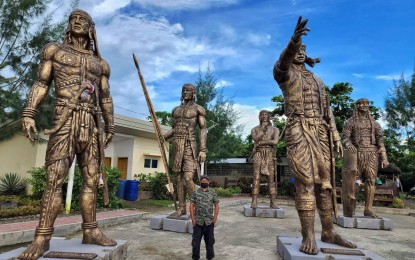 SAN JOSE DE BUENAVISTA, Antique – The Antique provincial government has commissioned an artist to make ultra-size sculptures of the 10 Bornean datus (chieftains) to erect a lasting monument to the country's pre-colonial ancestors.
Juan Carlos Perlas, Antique Provincial Tourism and Cultural Affairs supervising administrative officer, said in an interview on Thursday they have commissioned artist John Alaban, who has roots in Culasi, Antique, to create concrete statues with bronze coating to be installed at the Malandog Esplanade in Hamtic town, where the chieftains' sailboats were believed to have first landed.
"There is a need to create a lasting monument to our pre-Hispanic ancestors at the traditional site of their landing on the shore of Antique so our future generation would be proud of our province's legacy as the cradle of civilization in Panay island," Perlas said.
He added that the monument was also part of the vision of Antique Governor Rhodora J. Cadiao to make the province a preferred travel destination among domestic and international tourists through the development of various tourism sites.
Perlas said Alaban delivered on July 13, the first five of the 10 statues with a height of 15 feet, taller than the war memorial sculpture of General Douglas MacArthur in Palo, Leyte.
The delivered statues of the first five Bornean datus were that of Sumakwel, Bangkaya, Dumalugdog, Lubay and Puti, the leader of the chieftains.
The sculptures of the remaining five datus yet to be delivered are those of Paiburong, Dumangsil, Balensusa, Paduhinogan, and Dumangsol.
Alaban, based on the interview of the Antique Provincial Information Office, said it took almost six months of extensive cultural and historical research to be able to come up with the concept and another month to be able to finish one statue.
He is proud to be commissioned to do the project because he was able to contribute something to the home province of his mother.
"We expect to have the final installation of the statues just before the annual Binirayan Festival in December," Alaban said in an interview.
Antique's provincial festival Binirayan was also coined from the Kinaray-a word "Biray" or a fleet of sailboats approaching the shores of Malandog.
According to legend, the 10 datus from Borneo led by Datu Puti arrived in Panay Island sometime in the 13th century.
Panay Island is now comprised of the provinces of Antique, Iloilo, Aklan, and Capiz. (PNA)