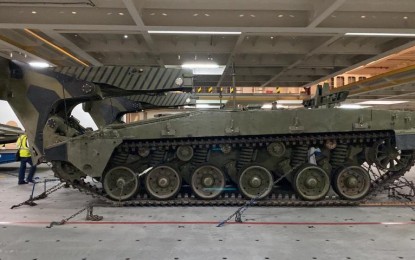 MANILA – The Philippine Army (PA) on Thursday said it will subject to a post-delivery technical inspection the two units of armored vehicle-launched bridge (AVLB) that were earlier shipped to the Batangas Port last July 12.
"The AVLBs will be inspected by the Technical Inspection and Acceptance Committee of the Department of National Defense's Procurement Service before acceptance and deployment to the Army's engineer combat battalions," said PA spokesperson, Col. Xerxes Trinidad.
He added that these AVLBs were procured through a Philippine-Israel government-to-government deal, and are part of Horizon Two of the Revised Armed Forces of the Philippines Modernization Program.
"The assets will boost the capabilities of Army engineer combat battalions in supporting maneuver units by providing mobility during operations," Trinidad said.
The AVLB is a combat support vehicle, sometimes regarded as a sub-type of military engineering vehicle, designed to assist militaries in rapidly deploying tanks and other armored vehicles across rivers or other gap-type obstacles.
"These past 125 years, we have seen the Philippine Army grow into a professional and capable Army for our country. And as the Army's modernization program progresses, we are looking at a very bright future for our land force," said Army commander Lt. Gen. Romeo S. Brawner Jr. (PNA)