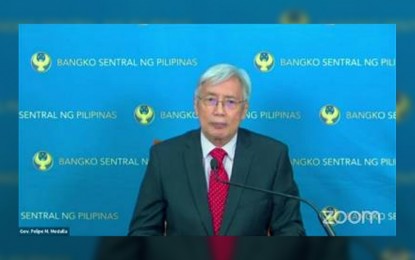 MANILA – Bangko Sentral ng Pilipinas' (BSP) key rates were hiked by 75 basis points on Thursday to address increasing inflationary risks and anchor inflation expectations, BSP Governor Felipe Medalla said.
The decision was made during a regular meeting of the policy-making Monetary Board and followed the 50 basis points increase announced after the Board's fourth rate-setting meeting last June 23.
Effective Thursday, BSP's overnight reverse repurchase (RRP) rate is 3.25 percent; the overnight deposit, 2.75 percent; and the overnight repurchase rate, 3.75 percent.
The first hike in the BSP's key rates this year was made in March, at 25 basis points, which brought total increases to date to 150 basis points, similar to the jump in the Federal Funds rates.
Medalla said the Board's decision was made after noting "that a significant further tightening of monetary policy was warranted by signs of sustained and broadening price pressures amid the ongoing normalization of monetary policy settings."
He said strong rebound of the economy allows it to accommodate additional increase in the BSP's key rates.
"By taking urgent action, the Monetary Board aims to anchor inflation expectations further and temper mounting risks to the inflation outlook. In particular, policy action is intended to help manage spillovers from other countries that could potentially disanchor inflation expectations," he said.
Medalla further said the Board "continues to urge timely non-monetary government interventions to mitigate the impact of persistent supply-side pressures on commodity prices."
"The BSP reassures the public of its unwavering commitment and readiness to take further necessary actions to steer inflation towards a target-consistent path over the medium term in keeping with its price stability mandate," he added. (PNA)