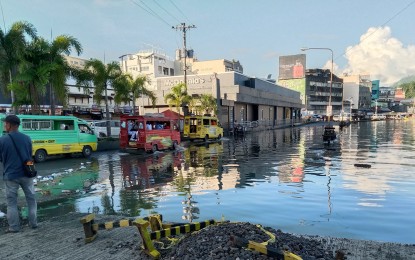 TACLOBAN CITY – The high tide that twice submerged a road section here this year could be due to the rising sea level and heavy siltation, an official of the Philippine Atmospheric, Geophysical and Astronomical Services Administration (PAGASA) said on Thursday.
PAGASA Tacloban weather station chief Mario Peñaranda said the unusual sea level rise reported on June 17 and July 13 calls for local authorities to check the structural setting of the area.
"It's possible that this is an effect of global sea level rise during high tide or maybe the area is heavily silted and needs dredging," Peñaranda told the Philippine News Agency (PNA) in a phone interview.
The high tide submerged a portion of the highway in the city's downtown area near the public market and a major fast-food chain.
Photos of sea level rise have been shared on social media and netizens tagged it as "unusual." The road section was never submerged by seawater during fair weather in the past, according to residents.
Data from the tides4fishing.com show that the sea level of San Juanico Strait in Tacloban went up to 1.1 meters at 6:03 am on July 13, 2022. It started to subside past 8 a.m.
The website also recorded the same sea level in the city at 8:29 a.m. last June 17.
In June 2011, the city's highest tide for the month was 0.9 meters, according to tides4fishing.com site.
Citing satellite data, PAGASA earlier said the Philippine Sea had an average yearly increase of 5.7 to 7 millimeters between 1993 to 2015. (PNA)