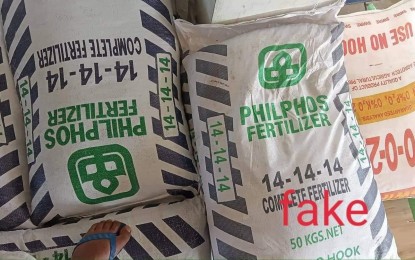 LAOAG CITY – The Fertilizer and Pesticide Authority has alerted farmers in Ilocos Norte to stay vigilant against the presence of fake fertilizers in the market.
Noel Tablada, FPA officer in Ilocos Norte, confirmed this on Thursday, saying several samples have already been taken from various agricultural supplies in the province subject to confirmatory analysis.
In a July 6 memo addressed to its regional field units, Dr. Myer G. Mula, FPA deputy executive director for fertilizer, ordered concerned authorities to stop the use, move, and sale of several locally-manufactured fertilizers being sold by some farm supplies in Pangasinan.
These include the Agrimate 9-10-9 granular, Golden Agro Plus, Mula granular fertilizer, Turbo prime multi-elements, and Xian-bee complete 14-14-14 granular that failed in the laboratory analysis.
According to Tablada, some of the mentioned fake fertilizer products have reached the province already.
"Eight other locally-manufactured brands which we took samples last week are still awaiting results," he said.
With this, farmers were advised to check every detail including the marking or label of fertilizers they are buying from suppliers.
Tablada said the alleged fake fertilizer can be identified through its label as the printing is lighter than the original one. Also, the texture and color of the fertilizer are different from the original.
As of this posting, the FPA is doing an analysis of the composition of the fertilizer samples that were randomly selected from various provinces. The FPA advised the public to inform its officers if they are doubtful of the quality of fertilizers they purchased. (PNA)