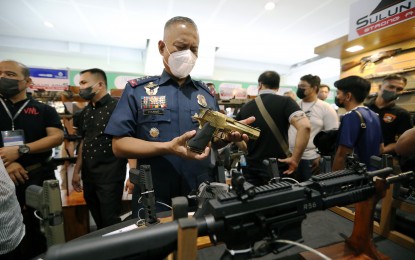 MANILA – Philippine National Police (PNP) officer-in-charge Lt. Gen. Vicente Danao Jr. on Thursday urged firearms and ammunition sellers to ensure that they are only dealing with persons authorized to own and carry weapons.
Speaking on the sidelines of the Association of Firearms and Ammunition Dealers of the Philippines (AFAD) arms show in Mandaluyong City, Danao said these dealers have a vital role in making sure that these do not land in the hands of criminals and terrorists.
He cited an instance where state forces did not have enough ammunition and bullets during the 2017 Marawi siege.
"All of us are shocked because of that Marawi incident where our troops and police forces, they ran out of ammunition in just three weeks or a month. Our enemies have so much ammunition for a span of six months. I was then with the counter-intelligence unit of the Directorate for Intelligence (DI) and when I searched further, there were at least three gun dealers who are in the area," Danao said in Filipino.
Danao, however, did not name these dealers and clarified that he is not accusing them of any wrongdoing.
He also reminded them to regularly update their firearms license and always bring with them their permit to carry firearms when leaving their homes.
"This is to protect not only ourselves but to protect your community as well and also you are promoting shooting as a sporting event," he stressed.
Meanwhile, AFAD president Hagen Alexander Topacio said the PNP and the Armed Forces of the Philippines (AFP) are doing a good job in ensuring peace and order in the country.
"Looking forward to working hand in hand with the new administration to improve anything to help us gun owners and the industry as a whole," said Topacio.
He added that enthusiasts could also learn a thing or two as they have also scheduled seminars and educational programs on self-defense, responsible gun ownership, firearms safety handling, regulation policy on gun ownership, and other exciting activities during the five-day gun show. (PNA)