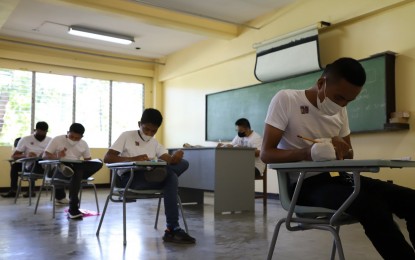 MANILA – The transformation of former combatants into productive members of society in the Bangsamoro region will serve as a "testament" of the government's collective pursuit of just and lasting peace, Presidential Adviser on the Peace, Reconciliation and Unity (OPAPRU), Secretary Carlito Galvez Jr. said Thursday.
Galvez, in a statement, congratulated some 7,145 members of the Moro Islamic Liberation Front (MILF) and Moro National Liberation Front (MNLF) for passing the recently held National Police Commission's (Napolcom) Special Qualifying Eligibility (NSQE) Examination -- turning former combatants into peacekeepers.
The special qualifying examination is pursuant to the Republic Act 11054 or the Bangsamoro Organic Law (BOL) which provides the former MILF and MNLF members appropriate eligibility for temporary appointment to the rank of patrolman/patrolwoman in the Philippine National Police (PNP).
Napolcom Resolution No. 2022-008 prescribes NSQE as an "appropriate eligibility for temporary appointment to the rank of Patrolman/Patrolwoman in the PNP for members of the MILF and MNLF."
However, passing NSQE does not automatically guarantee recruitment to the PNP.
The BOL states that the MILF and MNLF members must legally comply with the requirements of the PNP before their admission to the force.
Hence, a permanent appointment may only be given upon satisfaction of the prescribed educational requirement of a baccalaureate degree which they have to obtain within 15 years upon entry to the PNP, as prescribed under Section 14 of Republic Act 8551.
Meanwhile, Article 11, Section 2, Paragraph 3 of the BOL states that Napolcom can waive the age, height, and educational attainment requirements of the MILF and MNLF members residing in the Bangsamoro Region, provided that it is availed of within a period of five years from the ratification of organic law.
More than 10,000 MILF and MNLF members took the exam on May 29. Passers will also undergo police training.
The PNP recruitment process will likewise be conducted such as Body Mass Index, Physical Agility Test, neurological exam, medical and dental exam, drug test, complete background check as well as final board interview.
"The entry of qualified MILF and MNLF members into the PNP will help realize the meaningful transformation process for these former combatants, and is a testament to our collective aspiration of bringing a just and lasting peace to the region and to the whole country," Galvez said.
The peace adviser sees that the new accomplishment of these former combatants would really help them uplift their lives as reformed members of society.
"To our dear MILF and MNLF aspirants, may Allah (SWT) grant you the wisdom, strength, and fortitude to successfully complete and pass the selection process so that you will have the opportunity to serve and protect your people, and become instruments of peace, reconciliation, and unity across the country," Galvez said. (PNA)