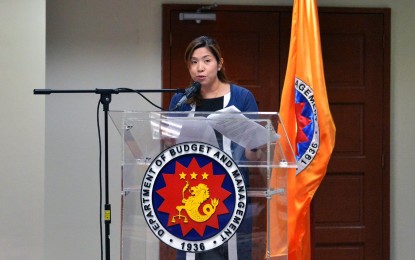 MANILA – The current government will "balance everything" despite the small increase in the programmed budget for 2023 at PHP5.27 trillion, Budget and Management Secretary Amenah Pangandaman said.
"After the number crunching, it's really PHP5.2 trillion so we really have to work on that given the assumptions by the DBCC (Development Budget Coordination Committee)," she told journalists Wednesday night.
The programmed budget for next year, which accounts for around 22 percent of domestic output, will continue to prioritize education, the 5-percent infrastructure spending, and social protection programs, among others, she added.
With the President concurrently serving as the Secretary of the Department of Agriculture (DA), Pangandaman said the agriculture sector will be among the priorities of the government.
From being among the agencies that usually get lower budget, she said DA maybe included as among those that will get the top 5 highest funding for next year.
However, Pangandaman said nothing is specific yet.
"We're doing the executive review board this week until the weekend," she said.
Pangandaman said among those that will be looked into include agencies' budget utilization as well as the priority programs.
She aims to present the proposed budget to members of the Cabinet by July 28 "and then we'll give the NEP (National Expenditure Program) to Congress on August 22," she said.
Under the 1987 Constitution, the NEP should be submitted to Congress within 30 days after the opening of the regular session of Congress, which is also the day of the President's State-of-the-Nation Address (SONA).
It also mandated the SONA to be held every fourth Monday of July, which falls on July 25 for this year.
"I presented the timeline. He (the President) wanted to make sure we stick to the timeline and have it passed before at least December," Pangandaman added. (PNA)