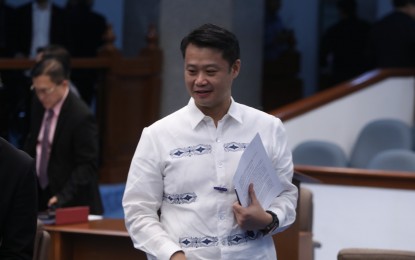 MANILA – Senator Sherwin Gatchalian on Thursday said he filed cyberlibel complaint against former Department of Energy (DOE) Secretary and Partido Demokratiko Pilipino–Lakas ng Bayan (PDP-Laban) president Alfonso Cusi before the Valenzuela City Prosecutor's Office.
Gatchalian said Cusi's official statement posted on the DOE website on Feb. 4, 2022 casts malice on his reputation and integrity including the Senate committee on energy which he chaired in the 18th Congress.
"Cusi's statement is clearly defamatory and obviously intended to cause dishonor, discredit, or contempt not merely of my position as a Senator of the Republic but more importantly of my integrity as a public servant," Gatchalian said in a statement.
Gatchalian's committee was then discussing issues surrounding the transfer of the 45 percent participating interest of Chevron Philippines in the Malampaya gas project.
Cusi, in his posted statement, said it is unfortunate Gatchalian had chosen to lend his ear to those adversarial business interests saying the hearings obviously undermine the DOE's ability to conduct a comprehensive evaluation of the proposal covering the said sale of shares.
"It is even more unfortunate that the senator should persist in fueling a gross misunderstanding of the issues on the part of the public by unfairly labeling the recent developments on Malampaya as, quote-unquote, 'defective, lutong macau and graft-ridden' which is an insult to the DOE officials and employees," Cusi's statement read.
Cusi added that the hearings were merely intended "to force him out of office in order to frustrate and invalidate what is legally binding transactions involving ownership of shares of Malampaya contractors".
The former DOE chief issued the statement after Senate Resolution No. (SRN) 137, which was proposed by Gatchalian and adopted by the Senate, was transmitted to the Office of the Ombudsman.
SRN 137 expressed the sense of the Senate to file the appropriate criminal and administrative charges for gross neglect of duty, grave misconduct, and conduct prejudicial to the best interest of the service against Cusi and other concerned DOE officials for approving and recommending the Chevron Philippines-UC Malampaya transaction contrary to law and regulation.
A simple reading of the statement, Gatchalian said, shows that Cusi characterized the conduct of the Senate investigation as being tainted with bad faith for being highly irregular and politicized.
Gatchalian also filed the Chairman's Report, which was the basis of SRN 137, before the Ombudsman and the Civil Service Commission (CSC). (PNA)