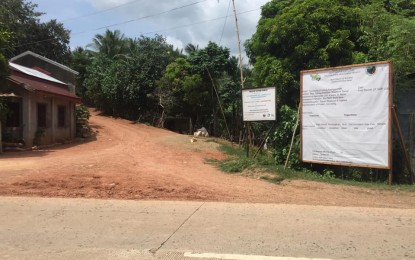 TACLOBAN CITY – PHP1 billion worth of World Bank-funded Philippine Rural Development Projects (PRDP) have been completed in Eastern Visayas in the past six years, the regional agriculture office here announced Friday.
The infrastructure component of the World Bank-funded PRDP has been helping farmers in transporting their produce to commercial centers and raising the income of families in farming communities, said Jenny Lyn Almeria, Department of Agriculture - PRDP regional deputy project coordinator.
As of June 30, these completed projects are the PHP15.9 million concreting of the Lapgap-Guindalitan farm-to-market road (FMR) in Maydolong town, and PHP33.02 million Maytigbao-Balogo FMR in the towns of Maydolong and Balangkayan in Eastern Samar province.
In Northern Samar province, these projects are the PHP55.03 million rehabilitation of the Bantayan-Malobago Pagsang-an FMR in San Roque town, the PHP51.57 million Burabod-Cadacan FMR in Gamay town, the PHP38.01 million Dancalan-Sitio Inamburacay FMR in Bobon town, and the PHP49.88 million Salhag-Kailingan FMR in Rosario town.
In Samar province, completed projects are the PHP85.29 million concreting of the Cogon-Mabini FMR in Basey town, the PHP87.92 million Cogon-Canca-iyas-Villa Aurora FMR also in Basey, the PHP20.26 million Dau-Eduardo FMR in Sta. Rita town, and the PHP27.37 million concreting of Camanhagay-Poblacion 1 FMR in San Sebastian town.
In Southern Leyte, these projects are the PHP33.17 million rehabilitation of Suba Kanangkaan-San Vicente-San Juan FMR in Sogod town, the PHP176.81 million Mahayahay-Manalog FMR in Saint Bernard town, the PHP239.14 million San Roque-Bahay FMR in Liloan town, and the PHP29.05 million San Pedro-Milagroso FMR in Sogod town.
The remaining finished projects are the PHP129.13 million Abaca-Panda FMR in Dagami, Leyte and the PHP132.17 million Concepcion-Bagumbayan-Hampangan FMR in Hilongos, also in Leyte.
"Unlike the regular infrastructure, PRDP-included projects must be an intervention based on the identified provincial commodity investment plan. Before any project is accepted by the PRDP, there are (a) series of procedures and protocols that we need to follow. The very crucial stage is to specify and validate the road influence area," Almeria said in an interview.
On top of this, PRDP projects in the region worth PHP278.07 million are ongoing and five infrastructure projects have been approved.
The inter-agency Regional Project Advisory Board reviewed and approved all projects before getting the nod of the Visayas Project Support Office, National Project Coordination Office, and the World Bank.
The PRDP is a six-year project of the Department of Agriculture nationwide that aims to modernize and improve the resilience of the fisheries and agriculture sectors.
The six-year rural development project is worth PHP27.5 billion funded through a World Bank loan worth PHP20.56 billion, and PHP7 billion in counterpart funds from the central government and local government units. (PNA)