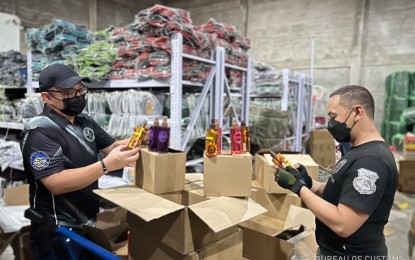 MANILA – Customs officers and military troops seized some PHP1.5 billion worth of smuggled goods, fake luxury items, and cigarette-manufacturing materials from a warehouse in Valenzuela City.
In a statement Friday, the bureau said the team armed presented on Wednesday a Letter of Authority (LOA) and Mission Order (MO) issued by Customs Commissioner Rey Leonardo Guerrero to the representatives of C Teknik Development Corporation located at 143 C.P. Gregorio St., Lingunan, Valenzuela City to inspect the warehouse.
Upon inspection, the composite team of BOC, through the Customs Intelligence and Investigation Service (CIIS) of the Manila International Container Port (MICP), and the Armed Forces of the Philippines (AFP) found an estimated PHP1.5-billion worth of smuggled goods composed of the following: imported construction materials, housewares, kitchenware, household appliances, and consumer electronics lighting products from China.
Aside from the imported Intellectual Property Rights (IPR) infringing goods of luxury brand names, they also found a hidden storage facility of raw materials of cigarettes, such as tobacco filler and filter rods.
Fake luxury items from brands, such as Christian Dior, Gucci, Michael Kors, Coach, Guess, Nike, Adidas, Hello Kitty, and Jordan.
The inspection also yielded beauty and hygiene products such as soaps from Cetaphil, Safeguard, Nivea, Johnsons, and others.
CIIS-MICP chief Alvin Enciso said the team temporarily placed padlocks and seals on the entrance and exit gates of the warehouse.
"We almost missed that (storage facility) because it was hidden behind layers of bubble wrap and boxes. We needed to remove those first during the inspection to see the storage area," he said in a statement.
The inventory was completed on Thursday by the assigned customs examiners, while CIIS and representatives of the warehouse stood as witnesses.
For his part, the BOC chief noted that the latest operation, one of the biggest against smuggled goods and cigarette-making facilities, is hard proof of the work done by the BOC under his term.
"The agency has come under fire not only in recent weeks but in years before I took over. It is high time to show what the Customs stands for when we get the job done," he said.
The Department of Trade and Industry-Bureau of Product Standard (DTI-BPS) has already sent inspectors in close coordination with the BOC. The subject goods are regulated by the agency.
Customs Deputy Commissioner for Intelligence Raniel Ramiro added that the team acted immediately upon the Commissioner's signing of the LOA.
"Those responsible for smuggling the items found in the warehouse will likewise face appropriate legal charges," he said.
A warrant of seizure and detention will be issued against the subject goods for violation of RA 8293 or the Intellectual Property Code of the Philippines, in relation to Section 117 (Regulated Goods), Section 118 (Prohibited Goods), and Section 1113 (Property Subject to Seizure and Forfeiture) of the Customs Modernization and Tariff Act (CMTA). (PNA)