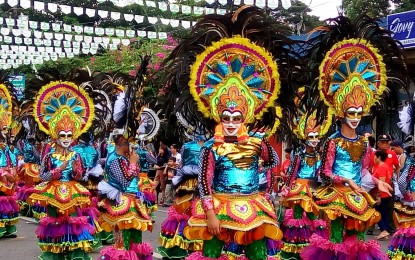 BACOLOD CITY – Mayor Alfredo Abelardo Benitez said on Friday he has invited President Ferdinand Marcos Jr. and Vice President Sara Duterte to grace the MassKara Festival, which will return in October for its 43rd edition.
"He's almost confirmed to come together with the vice president. The vice president reminded us yesterday that she's scheduled to go to our MassKara event. I think the First Lady (Liza Araneta-Marcos) is also coming," Benitez told reporters.
He said the date of arrival of the country's top leaders during the festival, which will be launched on October 1, has yet to be finalized.
The MassKara, with highlights held on the fourth Sunday of October, will be back two years after it was shelved due to the coronavirus disease 2019 (Covid-19) pandemic.
Benitez said with limited funds from the city government, he has tapped corporate sponsors to support the staging of this year's festivity.
"As of now (we need) tens of millions. With the plans that we have, it will probably be one of the most expensive MassKara festivals. I've been calling some of our friends in the corporate world who can help. So far, we have received a positive response," he added.
Amid the Covid-19 pandemic, Benitez said health and safety protocols are part of the considerations in the return of the MassKara Festival.
"We just want to make sure that everybody is prepared, that everybody is educated on how to treat and protect themselves," he added.
Benitez earlier said he is eyeing some 200,000 tourists during the festival, which was not showcased in 2020 and 2021, for the first time in four decades as the city battled with cases of Covid-19 along with the rest of the world.
The world-famous festival of "many faces" came to life following a series of tragedies experienced by Bacolodnons and Negrenses in the early 1980s. (PNA)