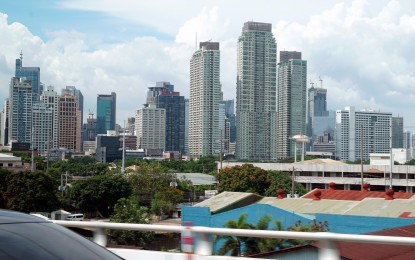 MANILA – Growth in the second quarter and the rest of 2022 is expected to remain strong amid the threats of inflation and other external events.
Rizal Commercial Banking Corporation (RCBC) chief economist Michael Ricafort forecasts second quarter economic growth of at least 8 percent, "largely driven by the further reopening of the economy towards greater normalcy."
Ricafort said easing of movement restrictions, with more than 80 percent of localities nationwide under Alert Level 1, is "an important turning point in the country's economic recovery" compared to year-ago.
He said the spike in local coronavirus disease 2019 (Covid-19) and delays in the arrival of Covid-19 vaccines in early 2021 served as a low base to this year's first quarter output thus, "any growth in 2Q (second quarter) 2022 could be mathematically magnified."
"Election-related spending could also add to GDP (gross domestic product) growth in 2Q 2022 amid large crowds in various campaign meetings/rallies nationwide and relatively lower new Covid-19 cases amid increased vaccination/booster doses vs. Covid-19," he said.
Another boost to domestic growth is the frontloading for some infrastructure projects ahead of the national polls, he added.
Ricafort said the resumption of foreign tourism since last February and easing of restrictions for domestic travels, along with the partial face-to-face classes, also supported the economic recovery.
These factors are, however, expected to be countered by elevated inflation rate caused by higher prices of oil and other commodities in the international market, the Ukraine-Russia conflict, and global supply chain disruptions.
"Thus, relatively stronger GDP growth data could support and justify any further hike in local policy rates, signaling that the economy is already relatively stronger enough to support/weather any local policy rate hike/s that would help manage both inflation and inflation expectations," he said.
On Thursday, the Bangko Sentral ng Pilipinas (BSP) announced an off-cycle 75 basis points increase in its key rates, the highest single adjustment to date, to help rein in inflation expectations and outlook.
To date, BSP's policy rates have been hiked by a total of 150 basis points since last May, similar to that of the Federal Reserve.
Both central banks are projected to further increase key rates this year to address the acceleration in the rate of price increases in their respective jurisdictions.
"For the coming months of 2022, higher long-term and short-term interest rates locally and in the US/globally would also be a drag on local economic growth as higher borrowing costs/financing costs would also reduce the growth in new investments, expansion plans, and purchases of big-ticket items such as real estate/property, vehicles, capital equipment, among others," Ricafort said.
He said further upticks in interest rates are seen to dampen spending not only by consumers but also by businesses, government, and other institutions "that would otherwise have been spent on consumption, new investments, job creation, among others."
Ricafort said continued robust inflows of overseas Filipino workers' (OFWs) remittance and foreign direct investments (FDIs), expansion on both exports and imports, recovery of the jobs sector, higher infrastructure spending, and high level of foreign reserves, among others, are bright spots for the economy.
BSP Deputy Governor Francisco Dakila Jr. said the government's 6.5 to 7.5-percent growth assumption for this year remains attainable despite the BSP rate hikes.
"We see the economy recovering robustly with the opening up of the economy. We actually think that the growth of the economy will be closer to the upper bound of the DBCC (Development Budget Coordination Committee) numbers," he said in a virtual briefing on Thursday.
Dakila said this expectation "comes on the back of strong first quarter performance."
Growth, as measured by GDP, expanded by 8.3 percent in the first three months this year, higher than the 7.8 percent in the previous quarter and a reversal of the -3.8 percent in the first quarter of 2020.
"And as you can see, (the) second quarter is very likely also strong or maybe even stronger than the first quarter of last year," he added. (PNA)