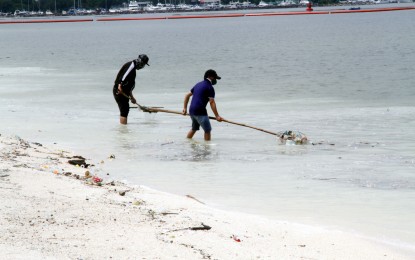 MANILA – The Department of Environment and Natural Resources (DENR), through the Environmental Management Bureau - National Capital Region (EMB-NCR), has observed a significant improvement in the water quality of Manila Bay, which it attributed to the continuing rehabilitation efforts in river systems and tributaries.
Based on the data of the EMB-NCR as of June, the fecal coliform level at the Manila Bay beach nourishment station near the United States Embassy has decreased to 2,400 most probable number per 100 milliliters (MPN/100mL), down from 7,100 MPN/100mL in 2021.
Two water quality monitoring stations near the Dolomite Beach also registered lower fecal coliform levels – from 7,300 MPN/100mL to 1,700 MPN/100mL, and from 10,200 MPN/100mL to 2,100 MPN/100mL, respectively.
The four Metropolitan Environment Offices likewise reported a significant decrease in fecal coliform levels within their respective areas.
Fecal coliform levels have dropped in the Malabon-Navotas-Tullahan-Tinajeros River System from 3.7 billion MPN/100mL to 4.8 million MPN/100mL, as well as in the waters near the Navotas Fishport from 920,000 MPN/100mL to 9,200 MPN/100mL.
"We have seen remarkable gains in Manila Bay based on the water quality monitoring results. Rest assured that we will not stop here and will continue our work as part of the Manila Bay rehabilitation project," Michael Drake Matias, EMB-NCR regional director, said in a news release on Saturday.
Although the readings show that the current levels are still far from the fecal coliform standard of 100 MPN/100mL to restore Manila Bay's water quality to Class SB level, Matias said the goal is a big challenge but attainable through the collaboration of both local and national governments and the public.
Class SB is a DENR classification for coastal areas and waters where the public may safely engage in bathing, swimming, skin diving, and similar recreational activities.
"Reaching the 100 MPN/100mL standard is not impossible through our solid waste management strategies, geoengineering interventions, and with the establishment of our real-time online water quality monitoring system," Matias said.
The EMB-NCR checks 412 monitoring sampling stations scattered in various water bodies of Metro Manila.
Twenty-three stations, which include stations near the Dolomite Beach, Rizal Park Hotel, and US Embassy, are being monitored three times a week.
Meanwhile, 18 stations, including the Manila Yacht Club sewerage treatment plant and Aristocrat Restaurant monitoring stations, are monitored weekly.
The EMB-NCR also conducts monthly monitoring of 133 stations, which include the Manila Bay river outfalls and Marikina River.
Together with the EMB 3 (Central Luzon) and EMB 4-A (Calabarzon), it conducts quarterly monitoring of 206 stations, including the Navotas River Shipyard and Manila Bay shoreline, while 32 stations are monitored semi-annually.
The EMB-NCR has developed and established an online water quality monitoring system to allow easy public access.
The data system will provide information and awareness to the public through the current status and trend of water quality in the creeks and water bodies in Metro Manila, according to Matias.
It will also serve as the basis for crafting policies, plans, and regulations to abate water pollution within the respective areas of jurisdiction of the local government units.
The ongoing Manila Bay rehabilitation project is in accordance with the continuing Supreme Court mandamus, directing 13 government agencies, including the DENR, to clean up, rehabilitate, and restore Manila Bay's waters to make it fit for swimming and other contact recreation activities. (PR)