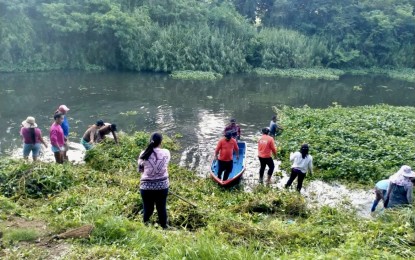 LAOAG CITY – The city government here is declogging its waterways to prevent flooding this rainy season.
One of the main clean-up activities involves the use of a backhoe to remove water lilies that impede water flow to the sea.
Marcell N. Tabije, local disaster risk reduction, and management officer, said Saturday all the floodwater that comes from downtown Laoag goes to the Caoacan creek, hence the need to clear out the debris, particularly the fast-growing waterlilies in this area.
"We are declogging these waterways annually to bring back their depth to prevent overflow that inundates nearby communities," said Tabije.
In nearby Pila village, local communities living near the waterways are also doing their share in removing debris.
The Provincial Disaster Risk Reduction and Management Council (PDRRMC) is also assisting different local government units of Ilocos Norte with the simultaneous declogging of waterways.
According to Tabije, the heavy equipment of the Ilocos Norte government has been sent to flood-prone and low-lying towns of Batac City and Paoay in the second district to conduct dredging and augment their flood mitigating efforts.
Critical infrastructures such as roads and bridges, flood control structures, and irrigation systems are also being monitored as the southwest monsoon or "habagat" continues to bring rains in this northern part of Luzon.
With the continuing implementation of a community-based aid package that provides emergency assistance to displaced, underemployed, and seasonal workers, the beneficiaries are deployed to work on flood control projects in their respective barangays.
"We appeal to all our kakailian (constituents) to always be prepared and pro-active in these times," Tabije said. (PNA)