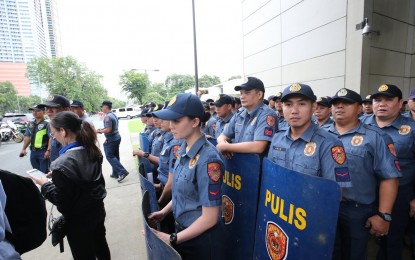 MANILA – The Philippine National Police (PNP) will deploy close to 22,000 personnel to secure the first State of the Nation Address (SONA) of President Ferdinand "Bongbong" Marcos Jr. at the Batasang Pambansa in Quezon City on July 25.
From the original plan of 15,174 personnel, the deployment will be increased to 21,843, said National Capital Region Police Office (NCRPO) chief, Maj. Gen. Felipe Natividad, during the first inter-agency coordination meeting at Camp Bagong Diwa in Bicutan, Taguig City on Friday.
Natividad said the security forces will be composed of 16,964 organic NCRPO personnel, 1,905 from PNP support units, and 2,974 from other coordinating agencies and peacekeeping partners.
They will apply the same template and security package utilized during the inauguration of President Marcos in Manila on June 30, Natividad said.
The meeting was attended by representatives from the Armed Forces of the Philippines, local government units, Metro Manila Development Authority (MMDA), Philippine Coast Guard, Bureau of Fire Protection, Bureau of Jail Management and Penology, force multipliers, volunteer groups, and other concerned agencies in order to fine-tune individual tasks, contingency plans, and coordinating instructions.
The suspension to carry firearms outside of residence within the National Capital Region will be implemented from July 22 to 27.
Stricter police inspections will be conducted in "Oplan Sita" checkpoints by foot and mobile patrol teams.
Natividad said road re-routing plans have been laid down by the MMDA through Emmanuel Miro, Traffic Operations Officer V, to pave the way for the essential vehicles to freely utilize portions of Commonwealth Avenue, the main thoroughfare leading to the House of Representatives and where zipper lanes will be set up.
"We are elated to report that everyone was so cooperative in addressing some flaws in the overall plan. We will continuously conduct dialogue and coordination meetings not only with our partners and counterparts but also with the community and civil society leaders to determine and address concerns in order to ultimately achieve a peaceful and safe State of the Nation Address of PBBM," Natividad said during the briefing. (PNA)