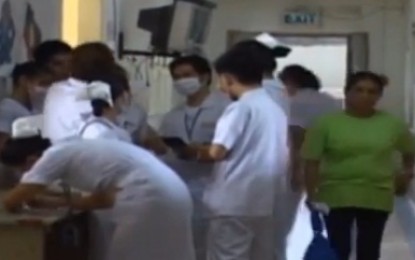 MANILA – Makati City Rep. Luis Campos Jr. wants the country's state universities and colleges (SUCs) to spearhead the offering of new Bachelor of Science in Nursing (BSN) courses following the scrapping of the ban of new nursing programs.
"We are counting on SUCs that still do not offer the BSN program to be among the first to apply and comply with the requirements to establish new nursing schools," Campos said in a news release on Sunday.
"Our sense is, the lure of free tuition and other fees will encourage many high school graduates to take up nursing once SUCs in the provinces roll out their new BSN programs," he added.
The Universal Access to Quality Tertiary Education Act, or Republic Act 10931, ensures free tuition and other fees for undergraduate programs, including the four-year BSN course, across all SUCs.
"In Congress, we are prepared to support SUCs that will request for additional funding so that they can put up new nursing schools," Campos said.
He said the lifting of the decade-long freeze on the opening of new BSN programs augurs well for the country.
"New nursing schools will mean additional teaching and non-academic support jobs," Campos pointed out.
"We also see the country producing a larger number of entry-level nurses in the years ahead, thus putting us in a stronger position to supply and fill both the domestic and global shortages of practitioners," Campos said.
The Philippines is currently the largest supplier of migrant nurses in English-speaking countries such as the United States and the United Kingdom.
The World Health Organization (WHO), in its State of the World's Nursing report, has projected that without action, "there will be a shortfall of 4.6 million nurses worldwide by 2030."
In the Philippines, the WHO said the shortfall of nurses is expected to be 249,843 by 2030, unless greater investment is made now to retain them in the local health sector.
The Commission on Higher Education (CHED) last week removed the 10-year-old moratorium on the opening of new undergraduate nursing programs effective immediately.
Higher education institutions can now apply and comply with the requirements to offer new BSN programs, according to CHED chairperson Prospero de Vera III.
The Professional Regulation Commission (PRC) issued licenses to 11,094 newly registered nurses in 2021.
This is down sharply from the licenses issued by the PRC to 67,390 newly registered nurses in 2010, or the year before the CHED effectively halted the opening of new nursing programs. (PR)