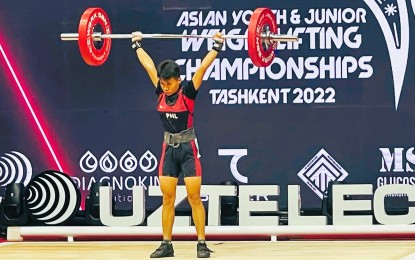 MANILA – Angeline Colonia kicked off the Philippine campaign in the Asian Youth and Junior Weightlifting Championships on a high note following her title victory in the Youth women's 40kg category on Sunday night in Tashkent, Uzbekistan.
Playing in her first international tournament, Colonia bagged the gold medal in snatch (62kgs), the silver medal in clean and jerk (72kgs) and the gold medal in total (134kgs).
She also set new Asian Youth and World Youth records in snatch. The World Youth record of 61kgs was set in November 2018.
Vietnam's Duong Thi Kim Yen, who won the gold medal in clean and jerk (73kgs), finished second with a total of 129kgs. She lifted 56kgs in her first attempt but failed on her second (59kgs) and third (61kgs).
India's Kishor Akahksha Vyavhare placed third with a total lift of 125kgs (55kgs in snatch and 70kgs in clean and jerk).
Colonia, a Grade 11 student from Culianan National High School in Zamboanga City, became a member of the national team only last March. She is the youngest sister of 2016 Rio Olympics veteran Nestor Colonia. She was trained by her uncle, 1988 Seoul Olympics veteran Gregorio Colonia.
"She's good for the 2028 Los Angeles Olympics. Another Olympian coming up. 'Future' here we come. Praise the Lord. More to come," said Samahang Weightlifting ng Pilipinas president Monico Puentevella when asked to comment on Angeline's victory.
Meanwhile, Prince Keil de los Santos pocketed two bronze medals in the Youth men's 49kg category. He was fourth in the snatch (83kgs), third in the clean and jerk (103kgs) and was ranked third overall with a total of 186kgs.
Vietnam's Bui Minh Dao topped the event after winning the gold medal in the clean and jerk (111kgs) and total (196kgs). He registered 85kgs in the snatch and was tied for second place with India's L. Dhanush.
Dao's compatriot, A Tieu, was second overall with a total of 195kgs. He secured the gold medal in the snatch (91kgs) and the silver in the clean and jerk (104kgs).
Also scheduled to compete on Sunday was Jun Dominic Bohol in the Youth men's 55kg category.
Eleven more Filipinos, including Southeast Asian Games double-gold medalist Vanessa Sarno and World Youth champion Rose Jean Ramos, are seeing action in the tournament for the region's best athletes in the Youth (13-17 years old) and Junior (15 to 20 years old) divisions.
Sarno, the reigning Asian champion, is entered in the Junior women's 71kg category while Rose Jean Ramos will compete in the Youth women's 45kg category.
The other entries are Rosegie Ramos (Junior women's 49kg), Giselle Anne Betua (Junior women's 55kg), Joefry Frasco (Junior men's 55kg), John Raphael Macato (Junior men's 67kg), Rosalinda Faustino (Youth women's 49kg), Kiesha Mae Felisilda (Youth women's 55kg), Adrian Cristobal (Youth, men's 61kg) and Christian Rodriguez (Youth, men's 67kg).
The athletes are accompanied by coaches Allen Jayfrus Diaz, Christopher Bureros, Samuel Alegada and Edmundo Jose Cardan.
The Philippines won two gold medals (snatch and total) and one silver medal (clean and jerk) from Sarno and a bronze medal courtesy of Rosegie Ramos (snatch) in 2019 edition of the tournament in Pyongyang, North Korea.
Sarno, the reigning Asian champion, won the women's 71kg gold medal in the Vietnam SEAG, setting new records in snatch (104kgs), clean and jerk (124kgs) and total (239kgs).
Rose Jean Ramos, on the other hand, defended the women's 45kg title at the World Youth Weightlifting Championships at the Domo de la Feria in Leon City, Guanajuato, Mexico last month.
The Uzbekistan tournament is part of the national lifters' preparation for next year's SEA Games in Cambodia and Asian Games in Hangzhou, China. (PNA)