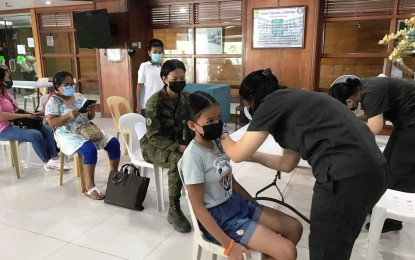 MANILA – The Philippine Army (PA) on Monday announced that some 80 minor dependents of its personnel received coronavirus disease 2019 (Covid-19) jabs during its pediatric vaccination drive last July 14 to 15.
PA spokesperson Col. Xerxes Trinidad said the PA's vaccination drive covers children aged 5 to 11 and is in line with government efforts to ramp up Covid-19 vaccination.
He added that the beneficiaries were inoculated at the Army General Hospital (AGH) at the PA headquarters in Fort Bonifacio, Makati City.
"A total of 80 children aged 5 to 11 years old received their primary dose in the two-day pediatric vaccination drive, the third installment of AGH's inoculation efforts for military dependents," Trinidad said.
Some 1,200 PA dependents were vaccinated during the first two vaccination activities last May.
AGH commanding officer Col. Jonna Dalaguit, a pediatrician, said, in an earlier interview, the vaccination drive will significantly reduce symptomatic and severe Covid-19 infections among the pediatric population aged 5 to 11 years old.
"Vaccines are the best preventive medicine to protect children from possible Covid-19 infection," she added.
Dalaguit also assured parents of the safety and efficacy of the vaccine. (PNA)