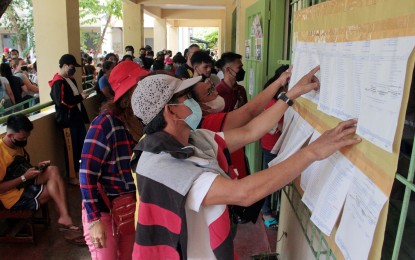 MANILA – Around 82 percent of Filipinos believe that the results of the recently-concluded May 9 polls are accurate, a recent survey showed.
This is based on the latest Pulse Asia survey conducted on 1,200 respondents nationwide from June 24 to 27.
It added that the majority of the respondents had "big trust" in the results of the elections.
This number was true across geographic locations, socio-economic classes, genders, age groups, education levels, and religions.
Respondents were initially asked: "Please indicate how big or small is that the results of the 2022 elections were accurate and credible." They were then made to choose from "big," "small," or "could not say".
It added that some 4 percent of respondents said they had "small trust" in the results, 0.3 percent had "very small trust" or "no trust," while 14 percent of those interviewed could not say to what extent they trusted the results.
The acceptability of election results was most pronounced in Mindanao (96 percent), followed by Visayas (85 percent), National Capital Region (84 percent), and Balance Luzon (73 percent).
Around 83 percent of respondents from rural areas and 81 percent from urban areas found the elections credible.
Some 84 percent of female respondents and 80 percent of male respondents had "big trust" in the polls.
The overwhelming acceptability of the polls' results was also observed in all age groups -- 35-44 years old (91 percent); 18-24 years old (71 percent); 25-34 years old (86 percent); 45-54 years old (80 percent) 55-64 (77 percent) and 65 years above (82 percent).
Meanwhile, 72 percent of respondents answered faster results as the main benefit of automated elections in the country, followed by ease of voting (15 percent) and greater credibility (11 percent).
Almost nine out of 10 Filipinos or 89 percent also answered in the affirmative when asked if they would like automated voting to continue in future elections.
The survey had a margin of error of +/- 2.8 in NCR and +/- 5.7 in Balance Luzon, Visayas, and Mindanao.
According to the Commission on Elections, 83 percent of the 67.5 million registered voters have participated in May 9 polls. (PNA)