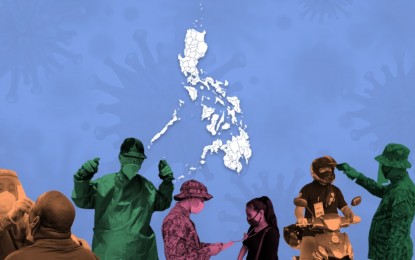 MANILA – The country's daily average of coronavirus disease 2019 (Covid-19) cases went up by 44 percent from July 11 to 17, the Department of Health (DOH) reported Monday.
From 1,467 per day from July 4 to 10, the number of Covid-19 cases reached 2,091 daily from July 11 to 17.
The latest case bulletin showed that there were 14,640 new cases and one verified death in the recent week.
For the same period, 35 cases were added to the tally of severe and critical infections, which went up to 589 from the previous week's 555.
Only 18.3 percent or 481 out of the 2,630 intensive care unit (ICU) beds are in use, while 23.8 percent or 5,189 of 21,809 non-ICU beds are utilized.
To date, about 71,322,848 or 91.32 percent of the country's target population (78,100,578) are vaccinated against Covid-19, including 77.81 percent of 8,721,357 senior citizens.
As of July 17, a total of 15,592,533 have received booster shots out of the total 71,322,848 who are fully vaccinated.
In a tweet Monday, OCTA Research Group fellow Dr. Guido David said the positivity rate or the number of people who test positive for Covid-19 in an area is 12.6 percent as of July 16 -- 1.7 points higher than its 10.9 percent rate on July 9.
David added that positivity rates are very high in select areas nationwide especially in provinces which log above 20 percent positivity rate.
These provinces include Aklan with 35 percent positivity rate; Laguna, 22.6 percent; Nueva Ecija, 21 percent; Pampanga, 23.1 percent; and Tarlac 27.6 percent. (PNA)