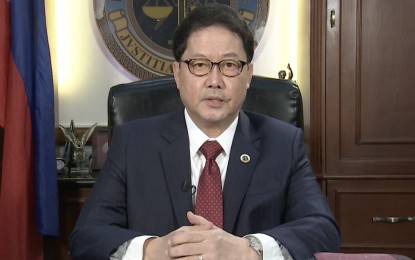 MANILA – Solicitor General Menardo Guevarra on Monday said his office is still considering its available options on the investigation by the International Criminal Court (ICC).
The SolGen said they will also complete consultations with other government offices on lingering questions including whether there would be undue encroachment on the country's sovereignty and the powers of its functioning judicial system.
"There are state sovereignty issues involved. We need to cover those points, first and foremost," Guevarra told reporters.
"The OSG (Office of the Solicitor General) is considering several options, such as challenging the jurisdiction of the ICC/admissibility of the case, or continuing to leave our lines of communication with the ICC open. We shall decide on our final course of action after consultations with the DFA (Department of Foreign Affairs), the DOJ (Department of Justice), international law experts, and the Office of the President," he added.
Guevarra said they will seek guidance and intends to get the position of President Ferdinand R. Marcos Jr. on the matter.
The President "has not had the occasion to discuss the ICC case thoroughly with anyone, but I intend to consult with him about it very soon," he said.
In March 2018, former President Rodrigo Duterte ordered the Philippines' withdrawal from the Rome Statute just weeks after former ICC chief prosecutor Fatou Bensouda announced a preliminary examination was underway into the administration's controversial crackdown on illegal drugs.
The Philippines officially cut ties with the ICC on March 17, 2019, a year after the Rome Statute's revocation.
Duterte has argued that the Rome Statute, which created the ICC, specified the ICC can only prosecute such complaints if the member-nation did not have a working judicial system or the government refused to prosecute such crimes.
In September 2021, the ICC formally launched an investigation into the Philippine government's anti-narcotics campaign. But in November of the same year, the government requested the ICC to defer its investigation because the administration was already looking into the allegations.
Marcos said he will allow members of the ICC to go to the country, but only as tourists and not as investigators, saying the country already has a "functioning judiciary" and is capable of conducting investigations themselves. (PNA)