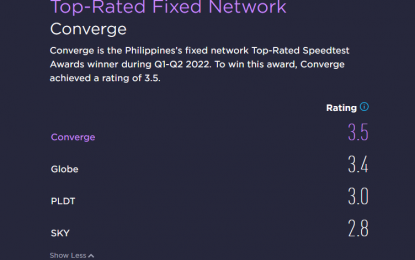 MANILA – Filipinos have ranked fiber broadband provider Converge as the top fixed internet service provider (ISP) in the country, according to the "Speedtest Awards" for the first quarter to second quarter of 2022.
In its report, users of the Speedtest website—a network analytics website and app operated by United States-based internet analytics company Ookla—gave Converge a rating of 3.5, followed by Globe at 3.4, PLDT at 3.0, and SKY at 2.8.
"To determine Speedtest Awards winners for fixed networks, Ookla assesses the fastest speeds attained across a given network, regardless of the performance tier for which an individual is paying," its website read.
To analyze the data behind the Speedtest Awards, Ookla aggregates the "speed score" collected from "consumer-initiated" tests that include their location and their ISP provider.
"Top-rated awards are designed to evaluate, for a specific location and time period, whether an operator has the highest star rating. We use our sampled data set of 'Speedtest 5 Star Ratings' to extrapolate and make inferences about consumer sentiment amongst the broader population of consumers," it said.
In a statement, Converge CEO and co-founder Dennis Uy said the recognition showed that the company's "effort and investments" are well placed.
"There's nothing more important than giving people the service they deserve and I'm glad this is reflected in the top ISP ratings," Uy said.
In June, he said the speed of its base "FiberX" internet plan was increased from 50 megabits per second (Mbps) to 100 Mpbs without added cost to its users "making it faster than the country's median average."
"Taking home the award only proves that the company's customer-centric approach is being recognized by its loyal customers," he said. (PNA)