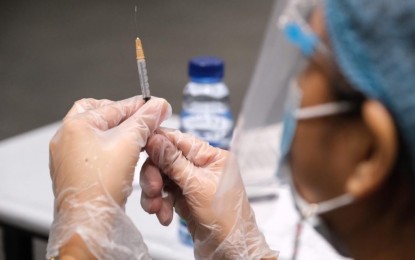 MANILA – President Ferdinand "Bongbong" Marcos Jr. on Monday met with officials of the Department of Health (DOH) at Malacañan Palace to discuss the government's Covid-19 response and possible changes in alert level classifications.
This, after the Marcos administration decided to retain the existing Covid-19 alert levels until the Inter-Agency Task Force for the Management of Emerging Infectious Diseases (IATF-EID) makes a recommendation to implement a new alert level system.
Currently, more than half of the Philippines, including Metro Manila, will stay under the most lenient Alert Level 1, pending the review of the alert level classifications.
In a Facebook post, Radio Television Malacañang (RTVM) said Marcos met with DOH Officer-in-Charge (OIC) Undersecretary Maria Rosario Vergeire "on matters concerning the Coronavirus Disease 2019 (Covid-19)."
Other officials present were DOH Assistant Secretary Charade Mercado-Grande of the DOH – Health Regulation Team and Bureau of Epidemiology Director Alethea de Guzman.
Presidential Management Staff Secretary Maria Zenaida Angping was also present during the meeting.
No other information was given as of posting time.
The Philippines logged a total of 14,640 new Covid-19 infections from July 11 to July 17, 2022, around 44 percent higher than the cases reported the previous week, according to the DOH.
This translated to 2,091 daily average cases from July 11 to 17 from 1,467 from July 4 to July 10.
To date, 71,322,848 individuals or 91.32 percent of the government's target population are now fully vaccinated against Covid-19.
Meanwhile, individuals who had booster doses stand at 15,592,533.
Marcos, who recently recovered from his second bout with Covid-19, earlier urged the public to get their booster shots to further enhance or restore protection that might have decreased over time after their first and second Covid-19 jabs.
On Monday, Department of National Defense (DND) Officer in Charge, Undersecretary Jose Faustino Jr. also presided over the first organizational briefing of the National Task Force Against Covid-19 (NTF Covid-19) at the Office of Civil Defense headquarters.
"We cannot tell the virus to stop, so we should also not stop in anticipating what we can do to mitigate an increase in Covid-19 infections," Faustino, who chairs the NTF Covid-19, told officials and representatives of various government agencies who attended the meeting that aimed to discuss the projected rise in the number of Covid-19 cases.
During the meeting, the DOH presented data on the current uptrend in the number of cases, especially in the use of health care facilities and intensive care units across the country.
The DOH, one of the agencies under the NTF Covid-19, is finalizing a surge plan, which will be disseminated to all hospitals to prepare them for a possible spike.
Faustino also relayed to the members of the task force a directive from the President to intensify the distribution and administration of vaccines and booster shots nationwide.
He cautioned the public against becoming complacent during this pandemic and reiterated the importance of strictly complying with minimum safety and health protocols. (with Priam Nepomuceno/PNA)