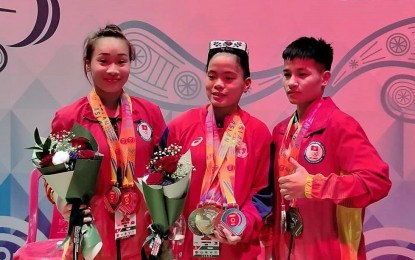 MANILA – Rose Jean Ramos came up with a sterling performance in the Asian Youth and Junior Weightlifting Championships on Monday night by collecting four gold, one silver and one bronze medals in the women's 45kg category at the Uzbekistan Sports Complex in Tashkent City.
The 17-year-old athlete from Zamboanga City won the gold medal in snatch (70kgs.), clean and jerk (83kgs.) and total (153kgs.) to clinch the Youth division title.
Her fourth gold medal came from the snatch (70kgs.) in the junior division. She took the bronze medal in the clean and jerk (83kgs.), and bagged the silver medal with a total lift of 153kgs.
The Philippines now has six gold medals, counting the two gold medals from Angeline Colonia in the youth women's 40kg. category last Sunday.
Coach Allen Jayfrus Diaz, who has been training Ramos for the past six years, was satisfied with his ward.
"I think she performed well after winning four gold, one silver and one bronze medals. The athletes from Vietnam and India are also strong," said the 36-year-old Diaz, who was a former national athlete before he became coach.
Samahang Weightlifting ng Pilipinas president Monico Puentevella praised Ramos, who became a member of the national training pool in 2018.
"She's the future of Philippine weightlifting. Ready for Los Angeles 2028. After she goes through SEA Games, Asian Games, World and end up in the Olympics. We'll have our Olympians for Paris and prepare the others for Los Angeles. Our master plan is right on track. Hope I'm still around when they win medals in 2028. Let God do the rest. Para sa bayan ito (This is for the country)," said Puentevella, who was inducted into to the International Weightlifting Federation (IWF) Hall of Fame last June 27.
Ramos, a Grade 10 student from Mampang National High School, retained the women's 45kg title at the World Youth Weightlifting Championships in Leon City, Guanajuato, Mexico last month. She ruled the clean and jerk (85kgs), came in second in the snatch (70kgs) and registered the best total of 155kgs.
Last year, she was crowned champion after winning the gold medal in the snatch (67kgs), the silver medal in the clean and jerk (80kgs), and the gold medal in total (147kgs) when the tournament was held in Jeddah, Saudi Arabia. (PNA)