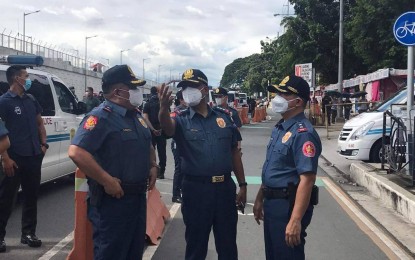 MANILA – The whole stretch of Commonwealth Avenue in Quezon City has been declared a no-rally zone as part of security measures for the first State of the Nation Address (SONA) of President Ferdinand "Bongbong" Marcos Jr. on July 25, the Philippine National Police (PNP) said Tuesday.
"For the roads, wala tayong ganun na (there are no) designated place for the rallies kaya yung buong stretch ng (that is why the entire stretch of) Commonwealth definitely is a no-rally zone," Col. Fernando Ortega, Quezon City Police District (QCPD) deputy director for administration, said in a press briefing in Camp Karingal.
In the same briefing, National Capital Region Police Office Chief, Maj. Gen. Felipe Natividad, said the measure would save motorists and commuters from inconvenience.
"We will not allow them (protesters) because it will create public disorder and heavy traffic. It will be a nuisance even for those who are walking on the side of the street. This is why we are talking to them that if possible, spare Commonwealth Avenue for the SONA," he said.
Natividad, however, noted that should protesters insist on staging activities, the police would prevent them from reaching Commonwealth Avenue "with maximum tolerance and calibrated response."
Meanwhile, PNP Officer in Charge, Lt. Gen. Vicente Danao, said protesters could only conduct their activities at the University of the Philippines grounds and Quezon Memorial Circle, which are designated as freedom parks.
"This is to prevent any activities that may hamper the SONA, though we know that some of them will insist on what they want. Still, we would negotiate with them that only the freedom parks would be allowed for them to occupy," Danao said.
He said they would not hesitate to use water cannons against the protesters if they cannot be controlled.
"It would depend on the situation. If there are no violent incidents, there would be no use of force. We don't want to reach that point and the PNP has no intention of hurting anyone. As a matter of fact, our presence there is to protect everyone, including them (protesters)," he said in Filipino.
About 22,000 police personnel will be deployed to secure Marcos' first SONA.
"There will be border control points just like what we usually do, especially from those who will be coming from a different region. So expect that there will be checkpoints from time to time and it will be on a random basis. It depends on the threat assessment on that day," Danao said.
He said they have not monitored any security threats for the occasion.
The MMDA will announce road rerouting plans to enable vehicles of SONA attendees to freely use portions of Commonwealth Avenue.
Metro Manila residents are prohibited from using firearms outside their homes from July 22 to 27 as part of security measures for the event. (PNA)