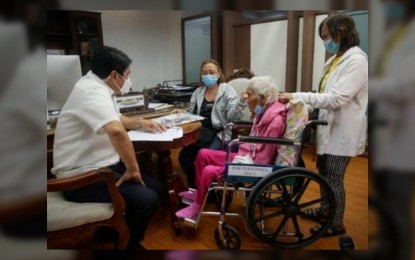 MANILA – The Department of Social Welfare and Development (DSWD) has completed the distribution of the PHP100,000 incentive for 1,111 out of 1,704 centenarian beneficiaries as of June.
The DSWD said Tuesday that they have so far disbursed PHP111.1 million and is set to give out the cash gift to 593 more for the rest of the year.
One of the most recent centenarian beneficiaries was 103-year-old Estelita Alliones from Antipolo City.
She personally went to see Secretary Erwin Tulfo at the DSWD central office in Quezon City on July 13, accompanied by her daughter and grandchild, to seek help in facilitating the release of her incentive.
"Based on the record of Field Office IV-A (Calabarzon), initial documents of Mrs. Alliones were submitted to the Department in 2020 and were completed in March 2022," the DSWD said in a statement.
DSWD gifted her with a wheelchair and released her incentive the following day.
Republic Act 10868, otherwise known as the Centenarians Act which signed on June 23, 2016, entitles all Filipinos who reach 100 years old, whether living in the Philippines or abroad, a "centenarian gift" worth PHP100,000 and a letter of felicitation from the President.
The DSWD reiterated its call to the family of centenarians to process the application as soon as the elderly is qualified.
To avail of the benefits, relatives of the centenarians must submit primary documents such as birth certificate or Philippine passport to the City or Municipal Social Welfare Office and/or to the Office for Senior Citizens Affairs (OSCA) in their places of residence.
"If the two documents are not available, any one of the primary Identification Cards issued by OSCA, Government Service Insurance System and Social Security System; driver's license; Professional Regulations Commission license; and Commission on Elections voter's identification will also accepted. In the absence further of the aforementioned, the centenarian and/or their family members can submit any secondary documents such as marriage certificate, birth certificate of child borne by the centenarian, among others," the DSWD said. (PNA)