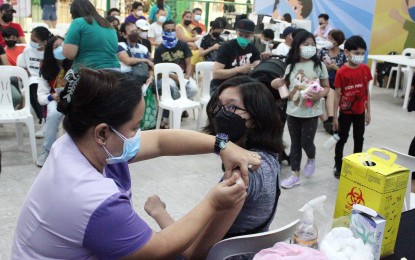 MANILA – Iloilo City Rep. Janette Garin on Tuesday said the government should expand the second Covid-19 booster doses to the general public for complete protection against the disease, as she warned that the new Omicron sub variants are "hyper contagious".
Garin stressed the urgency to administer the second booster doses, as vaccine-induced protection is not "outright" taking at least two weeks to one month.
"The new sub-omicron variants are hyper contagious, spreading like measles, with 1 patient infecting 18 others. Each of the 18 positive patients will have to infect 18 others. Imagine the multiplier effect. How do we fight? We increase our protection. No room for delay. We should have a sense of urgency," she said.
Garin said other countries have shown the benefits of two booster doses among those 50 years old and above, and those with comorbidities.
She said "what does not cause harm, should not be prohibited."
"In fact, many countries have already started giving two booster doses to those 50 years old and above, healthcare workers and those with comorbidities. Bakit ba natin ipagkakait ang dagdag na protection sa mga gusto at nangangailangan (Why do we have to deprive added protection to those who want and need it?)," she said.
She said several vaccines are already expiring, with approximately 27 to 30 million doses expiring at the end of the month.
She said "fully immunized" should now mean the completion of the primary series and two booster doses.
Sooner, she said the primary vaccination series will have to be three doses, based on the behavior of the virus and its impact on vaccination. (PNA)