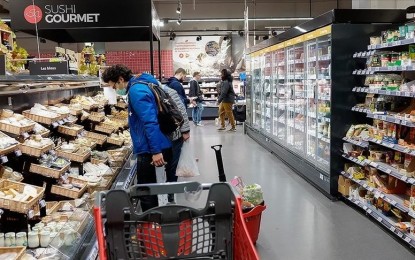 ANKARA -- Euro area annual inflation spiked to 8.6 percent in June, the highest level on record, the European Union's statistics office reported on Tuesday.
The figure marked a significant jump from 8.1 percent in May and 1.9 percent in June 2021.
"In June, the highest contribution to the annual euro area inflation rate came from energy (4.19 percentage points), followed by food, alcohol and tobacco (1.88 pp), services (1.42 pp) and non-energy industrial goods (1.15 pp)," read a Eurostat update.
Annual inflation in the European Union, meanwhile, spiked to 9.6 percent in June. It was 8.8 percent in May and 2.2 percent in June 2021.
The lowest annual rates were registered in Malta (6.1 percent), France (6.5 percent) and Finland (8.1 percent), while the highest were in Estonia (22.0 percent), Lithuania (20.5 percent) and Latvia (19.2 percent).
On a monthly basis, consumer inflation increased 0.8 percent in the euro area and 0.9 percent in the EU. (Anadolu)