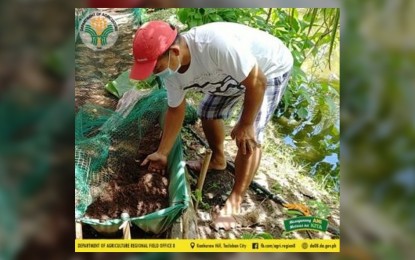 TACLOBAN CITY – The Department of Agriculture (DA) is pushing for the practice of organic farming in Eastern Visayas in response to the rising prices of fertilizers and growing demand for healthier food.
During the regional organic agriculture congress here on Wednesday, DA 8 (Eastern Visayas) Executive Director Angel Enriquez said promoting organic farming is part of food security.
"We could go into balanced fertilization but we must take into consideration the production of healthy foods. It is challenging but let us continue this enthusiasm," Enriquez said during the event.
In the past years, the organic farming program has been focusing on the enhancement of production support to organic practitioners, increasing organic production areas in the region, promoting market and consumer awareness of organic products, and strengthening advocacy campaigns at the local government level.
Andrew Orais, chief of the DA-8's operations division, said the target is to make organic agriculture work in at least 5 percent of farmlands in the region every year.
Currently, the DA has no data as to how many percent of farmlands in Eastern Visayas are into organic farming.
Orais, however, said he is positive that with intensive promotion and sharing of success stories and best practices, "we will be able to inspire more farmers in the region to adopt this sustainable way of farming."
"This is the answer to the problem of high cost of production. The release of nutrients may be slower, but in the long run, we are improving the condition of our soils," Orais told the Philippine News Agency (PNA)
The Fertilizer and Pesticides Authority reported that the average price of urea, the most commonly used fertilizer, increased to PHP2,781 for a 50-kg. bag from July 4 to 8, significantly higher than its price of PHP1,321 a year ago.
The cost of complete fertilizers has also doubled to PHP2,369 per bag from PHP1,187 in July 2021.
Martina Reyna, owner of the organic-certified La Granja Farm based in Diit village here, said they have a very minimal cost in fertilizer through organic methods.
"There is (a) sense of security, peace of mind, and confidence knowing that we are producing the best, not just for their consumers but for the environment as well," Reyna said.
La Granja is just one of the five certified organic farms in Eastern Visayas.
The Philippine Organic Agriculture Act of 2010 defines organic farming as all agricultural systems that promote the ecologically sound, socially acceptable, economically viable, and technically feasible production of food and fibers.
The systems dramatically reduce external inputs by refraining from the use of chemical fertilizers, pesticides, and pharmaceuticals. (PNA)