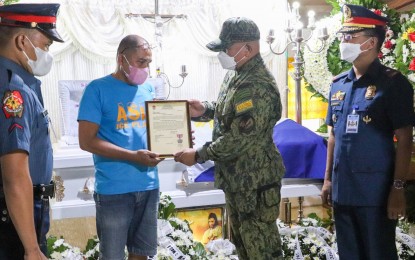 MANILA – The Philippine National Police (PNP) has feted a police officer who was killed in an ambush by communist rebels during a humanitarian activity in Samar last July 16.
In a statement on Wednesday, PNP officer-in-charge, Lt. Gen. Vicente Danao Jr., said Pat. Mark Monge was posthumously conferred with the PNP Distinguished Conduct Medal (Medalya ng Kadakilaan), for making a "supreme sacrifice in the line of duty" during the encounter that ensued from the attack.
Monge was cited for his bravery and heroism when his team engaged in a firefight with around 10 members of the Communist Party of the Philippines-New People's Army (CPP-NPA) at the boundary of San Jose de Buan and Gandara towns in Samar.
Danao also assured the surviving kin of the late cop of financial support and social benefits due to police personnel who died in the line of duty.
"Patrolman Monge did not die in vain, the PNP derives inspiration from his heroic death. We will not let his efforts go down the drain. We will not let these terrorists win. We will continue to crush them," Danao said.
On July 17, Danao turned over financial assistance worth PHP300,000 to the family of Monge.
Monge's surviving kin will also receive death benefits that include PHP500,000 from the President's Social Fund; PHP256,345 as Special Financial Assistance (SFA); PHP107,462 as commutation of accumulated leave from the PNP; PHP445,020 gratuity from the National Police Commission; and PHP100,000 financial assistance from the Civil Service Commission's Pamanang Lingkod Bayani program.
Monge's kin is also entitled to an insurance benefit worth nearly PHP976,000 from the Public Safety Mutual Benefit Fund, Inc.
These death benefits are on top of the estimated monthly salary lifetime pension from the PNP of the police officer and roughly the same amount of pension for five years from Napolcom.
"We feel the anxiety of every wife, child, and parent of our policemen. Just like that, another policeman's family can become fatherless, another can become a widow, and another parent can lose a child while our policemen perform their duty to ensure that our countrymen are safe in their homes. The only way to address the situation is to strike hard on these terrorists," Danao said.
The CPP-NPA is listed as a terrorist organization by the United States, European Union, the United Kingdom, Australia, Canada, New Zealand, and the Philippines.
The Anti-Terrorism Council also formally designated the National Democratic Front as a terrorist organization on June 23, 2021, citing it as "an integral and inseparable part" of the CPP-NPA that was created in April 1973. (PNA)